Vinteren i haven behøver ikke at være uden blomster. Allerede i november begynder de første buske at blomstre og har du juleroser, vil du i milde vintre sætte en buket på julebordet. Det er ikke det store sommerlige blomsterflor, men sammen med stedsegrønne buske, græsser og smukke frøstande er de vinterblomstrende buske med til at give haven liv om vinteren. Også til de insekter som vågner så snart solen får magt i januar/februar. Jeg har valgt tre ud, som jeg synes er særlig dejlige på denne tid af året.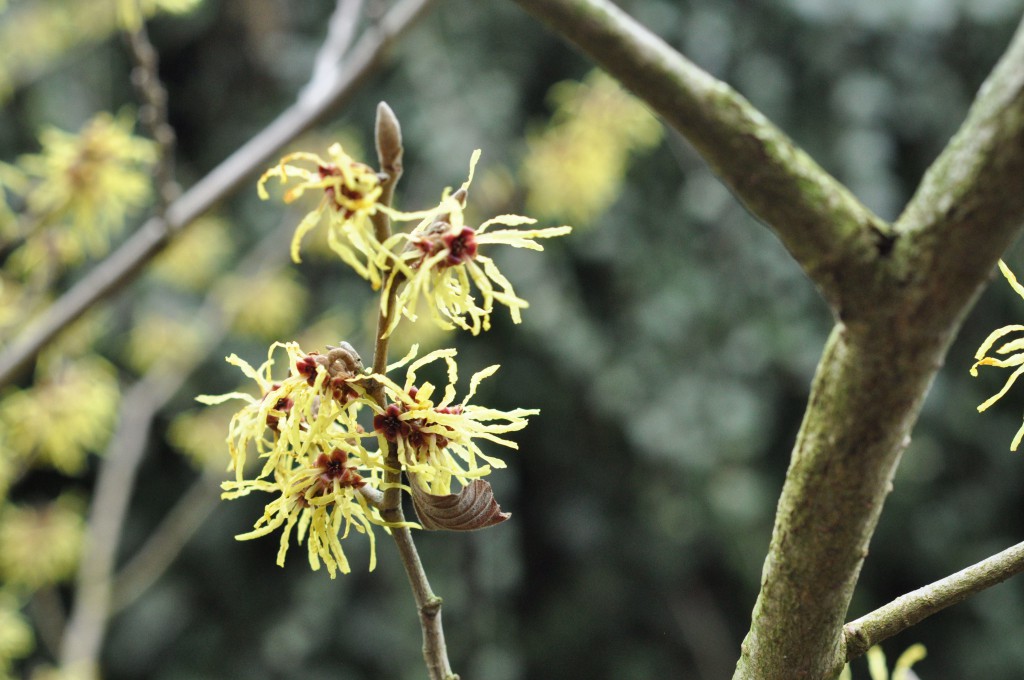 Troldnød
Japansk og kinesisk troldnød blomstrer fra januar til april. De sjove, lidt vilde blomster udsender en sød honningduft, som tiltrækker insekter. Det er en forholdsvis nem busk. I sit naturlige miljø vokser den i skovbrynet, så det er en fordel at give den nogenlunde de samme forhold i haven. Den er dog ikke kræsen. Blot kan den ikke lide alt for meget vind. Om efteråret står den med de smukkeste efterårsfarver. Busken bliver 2-5 meter høj.
Foto øverst: Japansk troldnød (Hamamelis japonica Flavo-purpurascens)/
Foto nederst: Kinesisk troldnød (Hamamelis mollis Pallida' dafo)
Vinterblomstrende gedeblad
Vinterblomstrende gedeblad ( Lonicera fragrantissima) er ikke særligt udbredt i Danmark, hvilket faktisk er synd. Den blomstrer med de fineste små hvide klokkeformede blomster med lange gule støvdragere fra januar til april. Som med troldnød er det en høj busk. Dog bliver den næppe højere end 2,5 meter. Vinterblomstrende gedeblad stiller ikke de store krav til voksestedet, men en veldrænet jord er optimal. Den vil gerne have sol, men trives også i halvskygge. Jeg har tidligere nævnt den i indlægget "3 gode tips til en giftfri have", for jeg synes simpelthen den er så smuk. 
Kejserbusk
Kejserbusk findes i to udgaver Viburnum farreri og Viburnum bodnantense, hvor den sidstnævnte er mere udbredt i dag p.g.a. sin større villighed til at blomstre. Busken blomstrer med de fineste lyserøde blomster fra november til marts. Det er en høj busk som kan blive op til 3 meter høj. Find et lunt sted til den med sol eller halvskygge. Den er ikke så kræsen med jorden. Når julepynten er pillet ned, plejer jeg at tage en lille håndfuld grene ind i stuen. De behøver ikke at være i blomst. Varmen får dem til at folde sig ud.
Vil du have mere liv i haven hele året? Lad dig inspirere af min miniguide til insektplanter