I tre københavnske parker står vinterblomsterne i fuldt flor og skaber, sammen med det stedsegrønne, perfekte omgivelser til en gåtur i januar.
Botanisk Have i København samt Haveselskabets og Landbohøjskolens haver på Frederiksberg giver rig mulighed for at nyde vinterens blomster. For mig er de en livline i en ellers kold og mørk vintertid. Noget at holde øje med – hvad blomstrer nu? – og en god måde at følge årstidens vandring mod foråret.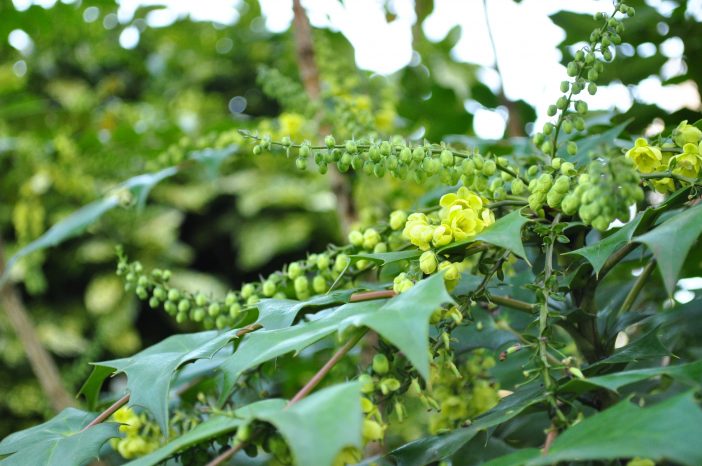 Landbohøjskolens have
Selvom Landbohøjskolen forlængst er opslugt af Københavns Universitet og i dag hedder noget ganske andet, så hænger navnet ved, når det kommer til haven. Det lyder bare ikke rigtig at sige haven ved SCIENCE og ville du mon overhovedet vide, hvad jeg mener? Altså holder vi fast i Landbohøjskolens have.
Når du går ind fra Bülowsvej og sætter kursen mod søen, kan du i januar pludselig blive fanget af den skønneste duft. Den kommer fra den lille uanselige blomst på busken kødbær. En asiatisk busk som blomstrer fra december-marts og herefter danner røde eller sorte bær. Lige ved siden af hinanden står to arter og dufter om kap i al deres forskellighed. Det er en af havens store attraktioner for mig. Hvert år glæder jeg mig til at gå forbi. 
I det hele taget er haven fuld af spændende vinterblomstrende planter. Vårlyng og skimmia, den gule mahonie, kirsebærkornel, pebertræ, oktober-kirsebær, vintersnebolle og vinterjasmin blandt andet. Og så er der alt det stedsegrønne. Masser af buksbom, men også en stor gruppe af forskellige husløg.
Landbohøjskolens have er en studie- og forskningshave, så her kan man virkelig nørde igennem, lade sig inspirere til egen have eller bare nyde i fulde drag og lade andre om det hårde arbejde. Hvis du har lyst til at nørde, så finder du en grundplan og plantefortegnelse her
Haveselskabets have
Lige ved siden af Frederiksberg Have ligger Haveselskabets have. En fin lille have med mange forskellige rum. Det er for mig havens attraktion. Hvor Landbohøjskolens have er en plantestudiehave, er Haveselskabets have et studie i havearkitektur. Det gør den også spændende at gå tur i. Du kan aldrig helt overskue haven, så du ved ikke, hvad der venter om det næste hjørne.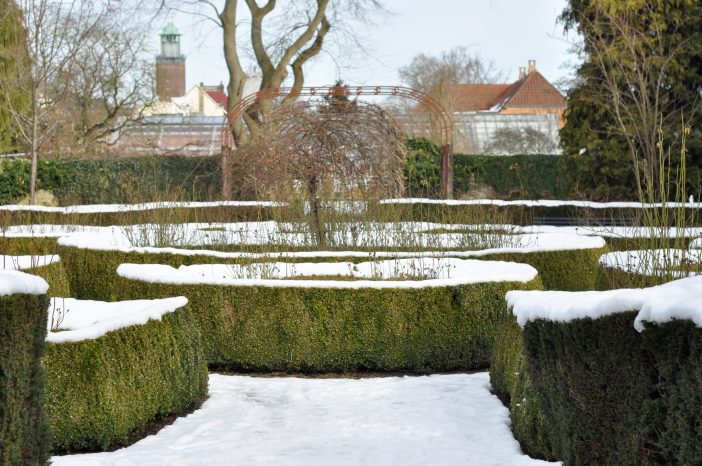 Vinter et rigtig godt tidspunkt for den som vil nørde haverum. Det er her havens struktur for alvor kommer til syne.  Hvis solen er fremme er der også gode muligheder for at sidde og lade sig varme under pergolaen. Og, selvfølgelig er der også vinterblomstrende buske, som japansk og kinesisk troldnød. 
Botanisk have
Det er ikke uden grund, at Botanisk have er med i mit forslag til "3 grønne gåture i København". Haven er et af mine yndlingssteder i byen. Så ofte jeg kan, er jeg lige et sving forbi. På alle årstider.
Tager vi væksthusene med, så har haven Danmarks største samling af levende planter. Og lige netop væksthusene er det, der især adskiller den fra Landbohøjskolens have. Udover de mere almindelige væksthuse, som rummer blandt andet kaktus- og sukkulentsamlingen, er der også Palmehuset. Bygget i 1872-74 med engelske Crystal Palace som forbillede og nu fredet. Palmehuset er endnu en af mine livliner i januar. Det er det bedste sted til vinterterapi. Varmt og fugtigt med eksotiske planter.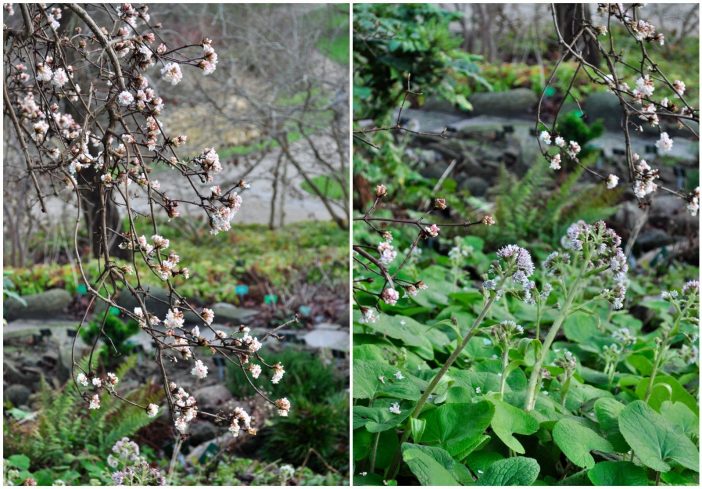 Rundt om i haven blomstrer vellugtende hestehov under den lyserøde kejserbusk og i et hjørne breder den tornede julerose sig (også kaldet korsikansk nyserod). Der er en god udsigt fra stenbedshaven, hvor der også er enkelte grønne pletter og helt ovre i det bagerste hjørne, ud mod Gothersgade, var der engang en kæmpe mistelten. Den må jeg vist ind og kigge efter. Forhåbentlig er den der endnu.