Mange gange er jeg gået på tåspidserne forbi Lene Christensens have på Jungshoved. Bare lige for at få et lille glimt over hækken af hendes skønne have. I sommers var jeg så heldig, at hun inviterede mig indenfor. 
På bare 300 m2 har Lene Christensen formået at skabe et lille paradis. Dels ved at bruge sine kreative evner. Dels ved at tænke i højden og i gentagelser. Remonterende roser er for eksempel et bevidst valg for at få gentagende blomstringer gennem sæsonen og rundt omkring i haven vokser klematis og klatreroser. På den måde udnyttes højden til blomster og kompenserer for de få m2.
Det kreative har altid været en del af Lene Christensens liv. Fritiden har hun brugt på at tegne og male. Og, det ses tydeligt i haven, som nu er et supplement til maleriet på lærred. Da jeg spurgte Lene, hvad det bedste ved en have er, svarede hun: "Den skabende proces. Haven er som et skiftende maleri". Lene Christensen har haft haven i 35 år, men det er først de seneste 5 år, hun for alvor har gjort noget ved haven. Efter at hun er gået på efterløn, har hun den tid og ro, der skal til for at arbejde kreativt med haven. Og, det er da også indenfor de seneste 5 år, at jeg er begyndt at ligne en balletdanser, når jeg passerer haven. Forandringer i en have er tydelige. Også selvom haven er omkranset af hæk og kun bliver set fra vejen.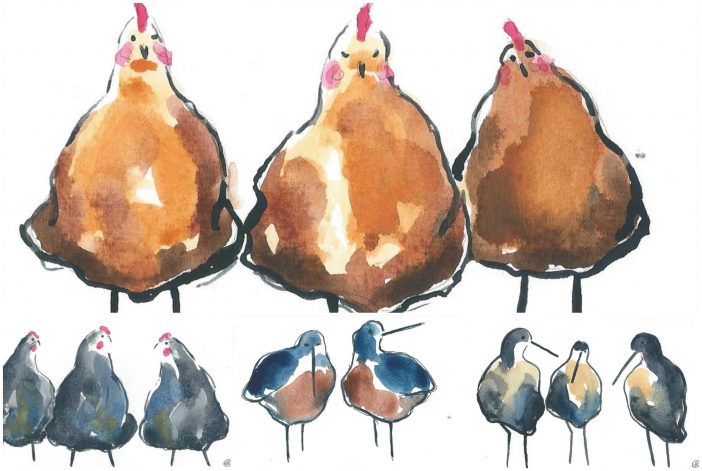 Dyr er et andet vigtigt element i Lenes liv. Hun kan ikke forestille sig et liv uden dyr. Hønsene skaber liv i haven med deres kaglen og skraben i jorden og ind i mellem kommer katten forbi. I 10 år har Lene haft høns. Det startede med en høne fra hendes barndomshjem. Det skulle bare være den og så ikke mere. Den blev 15 år gammel. Inden da havde den for længst fået selskab og hønsene var kommet for at blive. Ind i mellem agerer de også modeller for Lene, når hun arbejder med sine akvareller. Og, så giver hønsene den bedste gødning til køkkenhaven.
Haven har altid været spiselig. Også i de år, hvor Lene ikke havde meget tid til haven, havde hun køkkenhave. For tre år siden kom højbedene ind i haven. Her vokser blandt andet grønkål og salat. Ud mod marken er Lene ved at etablere en hæk af frugtbuske. Den hvide ribs fra barndomshjemmet er gennem årene suppleret med mange andre bær. Rundt omkring i haven står søjlefrugttræer og bugner af æbler og pærer. Søjlefrugttræer er velegnede til den lille have, da de er formet til at vokse i højden fremfor i bredden.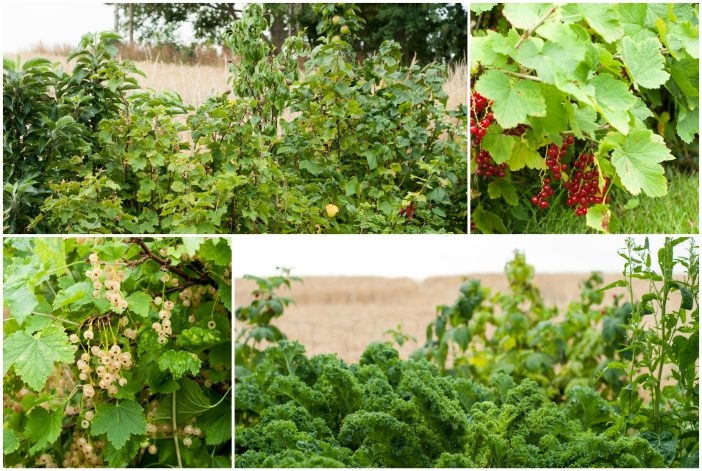 Lene Christensen har flere søjlefrugttræer rundt omkring i haven. Seks forskellige æbler og en pære. To almindelige æbletræer er der også, for "Filippa" og "Pigeon" er ikke til at undvære. Der udover har hun "Kong Skjold", "Suncats", "Franz", "Goldcats", "Starcats" og "Felix". Hun er særlig glad for sit søjlepæretræ, "Decora". En lille have er ingen hindring for at have et rigt udvalg af frugttræer, så længe træerne er søjlefrugttræer. Senest er hun begyndt at gå efter opretvoksende frugtbuske. Så kan der også kommer mange flere bær ind i haven.