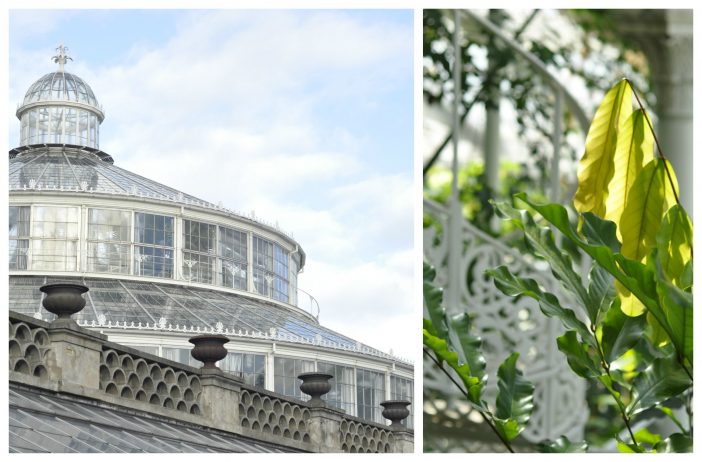 Palmehuset i Botanisk Have, København byder på grøn vinterterapi i rigt mål. Her er både lunt og grønt så langt øjet rækker.
I februar trænger jeg virkelig til at se noget der gror, blomstrer og har en anden farve end brun. Kort sagt trænger jeg uendeligt meget til grøn vinterterapi. Så er det, at jeg cykler en tur ind til Botanisk have og skynder mig ind i varmen i Palmehuset. Her slår den fugtige varme op, så snart man åbner døren og det varer ikke længe inden man må åbne frakken. Det grønne fylder hele ens synsfelt. Sådan en omgang klorofyl kan man mærke. Humøret bliver straks bedre.
Palmehuset har været en integreret del af Botanisk have siden starten i 1874. Her åbnede haven på den nuværende adresse, som den fjerde botaniske have i København. Det var brygger I.C.Jacobsen som sammen med slotsgartneren Tyge Rothe stod for opførelsen. Palmehuse var på det tidspunkt det helt store rundt omkring i Europa. Inspireret af Joseph Paxtons Crystal Palace, som rummede Verdensudstillingen i London i 1851.
På turen rundt i Palmehuset skifter temperaturen alt efter hvilken afdeling man er i, men varmt er det hele tiden. Alle afdelinger indeholder nemlig tropiske eller subtropiske planter, men klimaet skifter. Der er forskel på om det er regnskov eller middellhavsklima. Med klimaet skifter planterne selvfølgelig også, men grønt er det også hele tiden.
Man kan besøge Palmehuset for at lære nye planter at kende, lære noget om hvilke planter gror i hvilke klimaer. Eller for at lade sig opsluge af alt det æstetiske, som ligger i planternes former og bygningen selv. Men man kan også besøge Palmehuset blot for at nyde alt det grønne og varmen og pludselig ser man måske lidt af alt det andet også. Rart er det i hvert fald, når temperaturen udenfor er lav og man føler, at der er alt for lang tid til at det igen bliver frodigt og grønt omkring en.