En god blanding af naturligt og nostalgisk julepynt er årets tema. Med ganske få ting er der blevet plads til både minder og tidens naturlige trend.
Som jeg skrev allerede sidste år, så bliver julepynten her i huset mere og mere naturlig. Vel egentlig også minimalistisk i den forstand, at der kommer færre og færre ting frem. Julekassen er skrumpet til kun at indeholde de allervigtigste ting. Forstået som gode minder og særligt fine ting. Det er helt sikkert en blanding af at blive ældre og at være påvirket af tidens trend. Den gode naturlige trend. I stuevinduet står der derfor blandt andet en lille opstilling med røde bær i en hvid vase samt mos og en grankogle i et gammelt henkogningsglas. Alt det hvide er erstatning for den sne, som ikke ligger udenfor.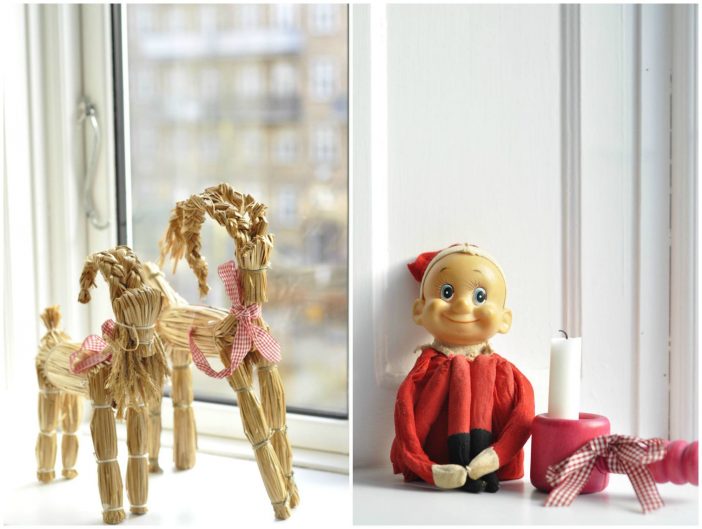 I afdelingen for julepynt med gode minder er de to julebukke fra min farmor, en nøddeknækker fra min barndom – nu som lysestage – samt hr. Nissen. Sidstnævnte er næsten lige så gammel som mig, men noget mere slidt end jeg føler mig. Han er altid glad og står faktisk fremme hele året.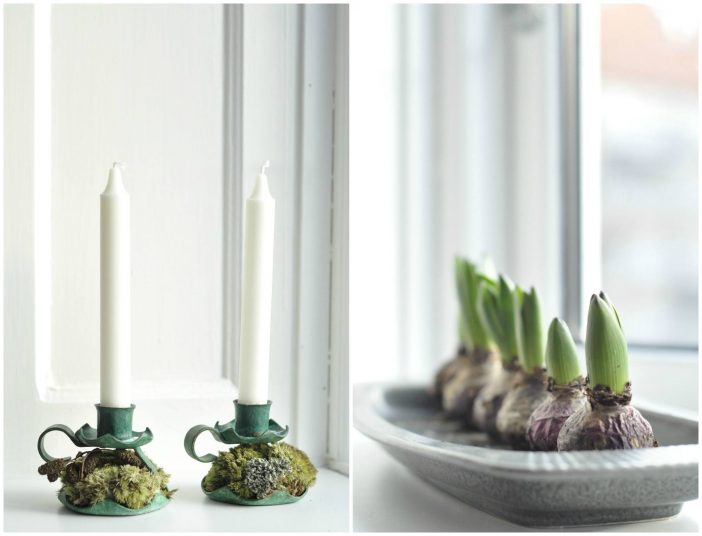 Der var lige plads til en pude mos i mellemrummet på de irrede kobberlysestager. Den ene fik en gren med små kogler, som jeg fandt grønne på en tur til Kalvebod Fælled i sommers. Den anden fik et stykke lav, som jeg fandt på asfalten på vej til Vestre Kirkegård. Selv i byen kan man være heldig at finde naturlig pynt til julen. 
I et aflangt fad står en række hyacinter. Selv uden blomst er de kønne. Den grønne top minder om en kongekrone. Mønstret på løgene får den lilla farve til at changere og giver struktur. I år nyder jeg dem som de er uden dikkedarer og andet pynt.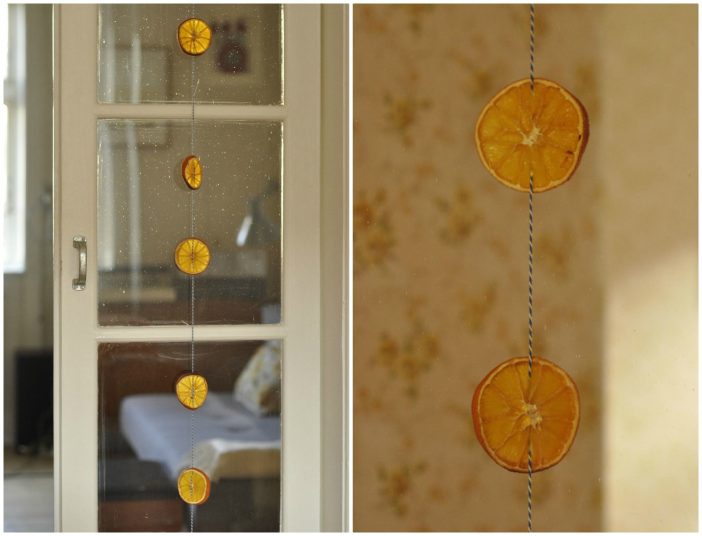 Sidste år hang der kranse på fløjdøren. I år hænger der en appelsinguirlande. De sidste mange år har jeg haft lyst til at tørre appelsiner og bruge dem til dekoration. Først i år fandt jeg tiden. De fleste tørrer dem i ovnen ved 50 grader i flere timer, men min ovn går ikke længere ned end til 150 grader. Efter to timer og et par vendinger var appelsinerne klar. En enkelt plade gav nok til både guirlande og julepakker. Pakkerne vender vi tilbage til en anden dag.