Årets adventskrans står i et firkantet fad med runde hjørner. Med fire lilla lys placeret på en bund af mos er det en enkel og rolig adventskrans, som er nem at lave.
Ordet adventskrans indikerer at adventskransen er rund, men sådan er det ikke nødvendigvis længere. I dag kan adventskransen have alle mulige udformninger. Det eneste der går igen er de fire lys. Dem tænder vi et for et hver adventssøndag, så lyset langsomt kan sprede sig og vi kan give os god tid til at glæde os. 
Egentlig bruger jeg rigtig meget hvidt i december, men i år har adventskransen her i huset violette lys. Efterfølgende har jeg fundet ud af, at det er den kirkelige farve for advent. Det siger nok noget om, hvor sjældent jeg går i kirke. I kirken symboliserer farven bod og forberedelse. I adventstiden forbereder vi os til at tage i mod Jesus, hvilket  tidligere blev gjort ved at faste. Også der må man sige, at traditionerne har ændret sig markant. I dag er det vist mere januar som er den store bodsmåned.
Traditionen med adventskransen kommer fra Tyskland, hvor den blev introduceret af Johann Hinrich Wichern i 1839. Oprindeligt var den et vognhjul med fire store røde og hvide lys samt en række mindre lys i samme farver. Senere beklæder han vognhjulet med gran som symbol på Jesus´tornekrans og så er vi ved at være godt på vej til den adventskrans vi kender. Lige netop det med de hvide og røde lys gjorde at han kom i konflikt med kirken, som holdt fast i den lilla farve som symbol på adventstiden.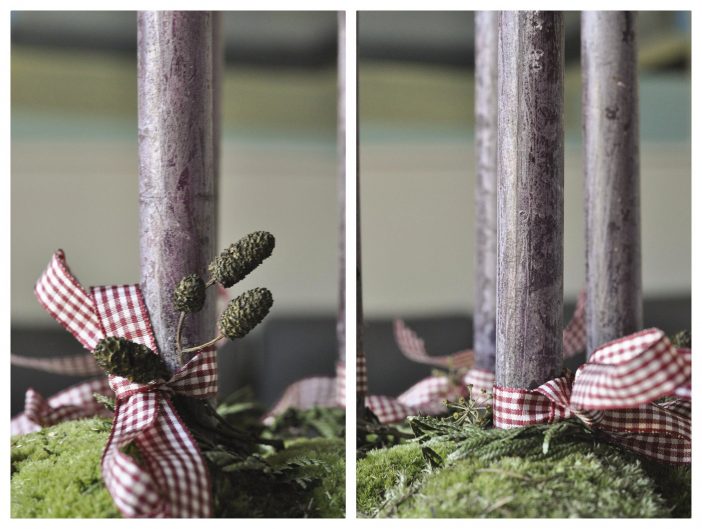 De røde og hvide farver tager sønderjyderne til sig, da adventskransen breder sig i Sønderjylland omkring 1. verdenskrig. På det tidspunkt er Sønderjylland som bekendt tysk, så det er meget naturligt, at traditionen spreder sig helt op nordpå. De rød-hvide farver bliver i Sønderjylland symboler på danskhed og de følger med, da adventskransen omkring 2. verdenskrig spreder sig til resten af landet. På et julemærke fra 1946 kan man se, at adventskransen har hvide lys og stribede bånd i rødt og hvidt. 
De rød-hvide farver er på ingen måde forsvundet helt, men i dag er adventskransen i mange tilfælde mere afdæmpet. Den er tilpasset vores boligstil. Der er heller ikke mange som hænger deres adventskrans op. Og, det er ikke kun fordi den ikke længere er en krans. Nok mere noget med, at det er mere praktisk at have den stående. 
Du finder mere inspiration til adventskransen i sidste års indlæg "3 enkle adventskranse du hurtigt kan lave"