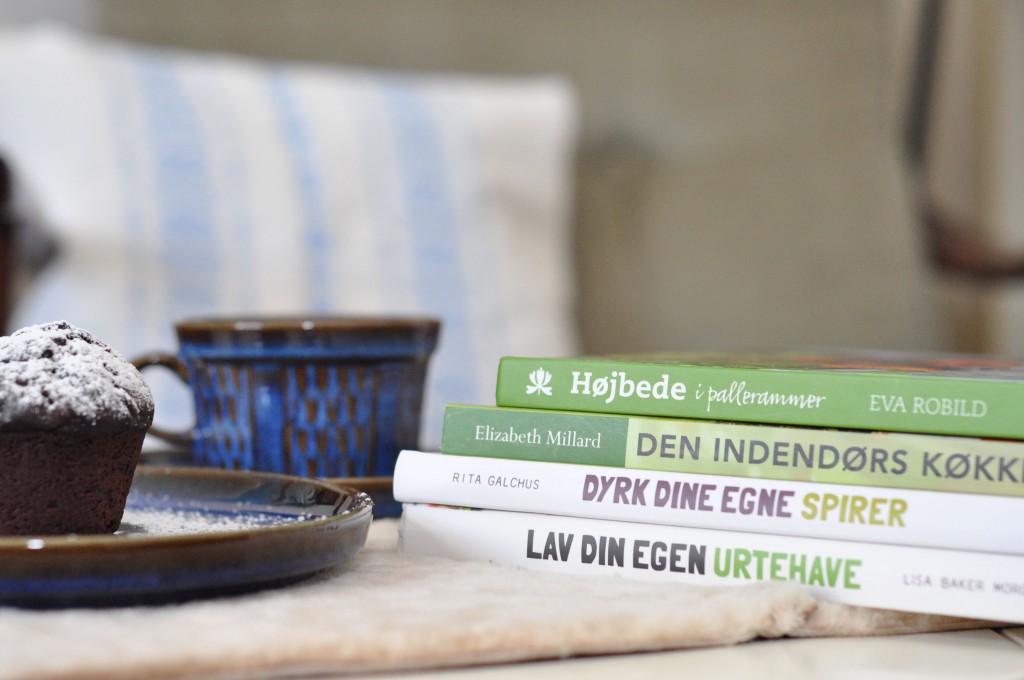 De sidste 14 dage er jeg dykket endnu længere ned i stakken af havebøger fra 2015. Det er en ren fornøjelse at sidde lunt i lænestolen med en kop kaffe og lade sig inspirere – En lille chokolademuffin med rødbeder til kaffen gør det naturligvis lige en ekstra tand hyggeligt – Efter "Fire havebøger til en have i balance" er vi nu nået til køkkenhaven. Også her er der fire bøger fra 2015, som har fundet vej til min postkasse.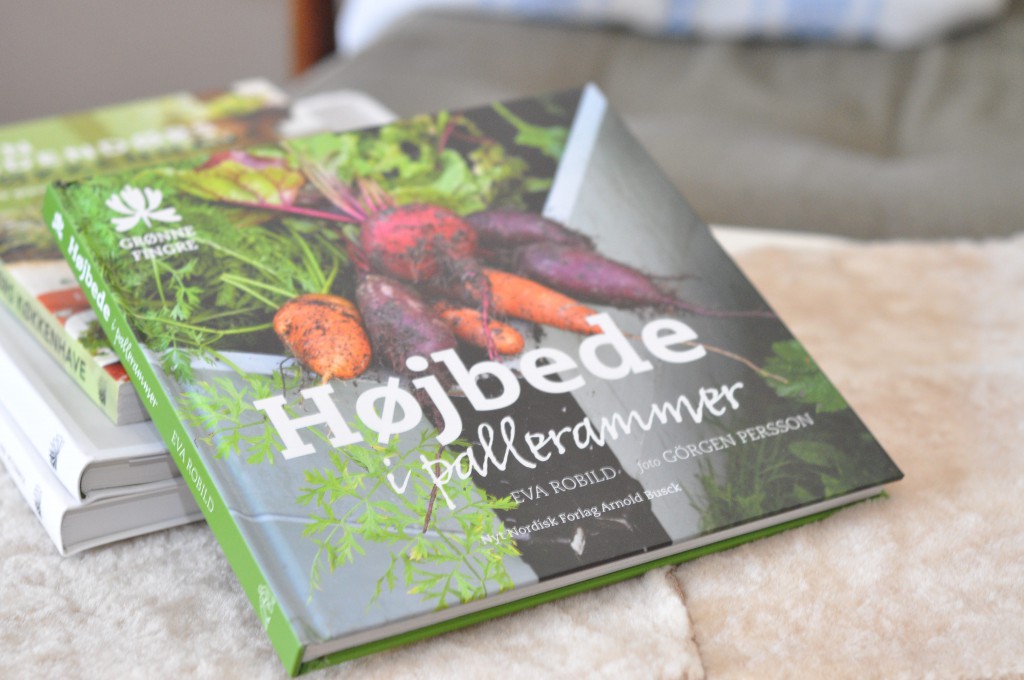 Højbede i pallerammer af Eva Robild med fotos af Görgen Persson/ Nyt Nordisk Forlag Arnold Busck/ ISBN 978-87-17-04475-3/ Kr. 149,95
Den mest inspirerende bog i bunken er uden tvivl "Højbede i pallerammer" af Eva Robild. Bogen er fuld af gode råd og lige til at gå til. Den kommer godt rundt omkring emnet. Æstetisk med forslag til opstillinger, gode råd til selvbyggeren og inspiration til højbede i andre materialer end træ. Rent praktisk med et helt kapitel om jord, kompost og gødning. Der er selvfølgelig også gode råd til dyrkning. Både af grøntsager samt et- og flerårige blomster. Jeg har allerede taget et godt råd til mig. Nemlig at lægge grene i bunden af en høj beholder for at spare på jorden. Et alment råd som også gælder andet end højbede. Forslagene til drivhuse glæder jeg mig til at afprøve til sommer. Jeg er ret imponeret over, hvor meget nyttig information en så lille bog kan indeholde og anbefaler den varmt.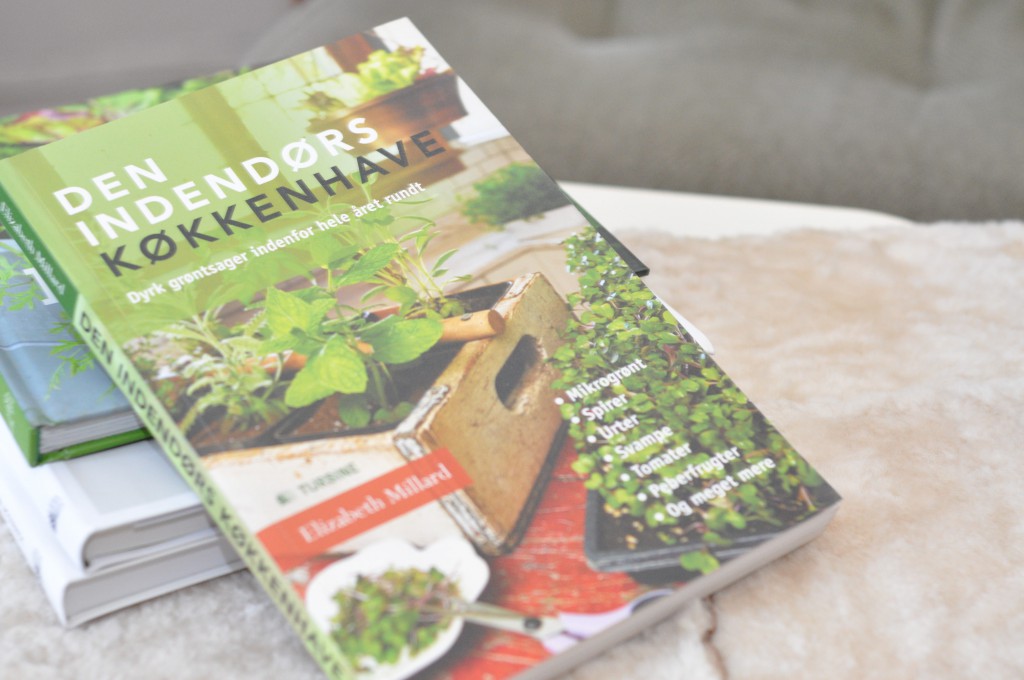 Den indendørs køkkenhave af Elizabeth Millard/ Udgivet af Turbine forlaget/ ISBN 978-87-7141-928-3/ Kr. 249,95
At skabe en indendørs køkkenhave lyder umiddelbart overvældende, men Elizabeth Millard formår at gøre projektet overskueligt. Hun lægger især vægt på dyrkning af mikrogrønt, skud og spirer som er muligt for enhver med en vindueskarm. Men der er også anvisninger på dyrkning af svampe og rodfrugter i kælderen. Altsammen meget omhyggeligt med gode råd, løsning på eventuelle problemer og anvisning på opbevaring af det høstede. Elizabeth Millard deler glad ud af sine erfaringer. Også de mindre heldige, hvilket er meget sympatisk. Bogen er oversat fra amerikansk og det har sine bagdele. Der er for eksempel problemer med indkøb af jord og frø, som aldrig vil forekomme i vores skandinaviske gennemkontrollerede samfund. Men hvis man kan læse udenom det, så er det en meget inspirerende bord. Jeg er i hvert fald klar til at gå i gang med både mikrogrønt og skud. Hvem ved, måske kommer der også kartofler i kælderen.
Dyrk dine egne spirer af Rita Galchus/ Udgivet af Turbine forlaget/ ISBN 978-87-7141-929-0/ Kr. 249,95
"Dyrk dine egne spirer" fokuserer på spirer og skud. Der er et lille bitte afsnit om mikrogrønt, men lige på det punkt er "Den indendørs køkkenhave" bedre. Det er en omhyggelig bog, som gennemgår de forskellige frø og bønner og giver anvisninger på, hvordan de skal behandles. Illustrationerne er gode og underbygger instruktionerne fint. Der er tips til forskellige spirebeholdere og opskrifterne bagerst i bogen er guld værd. Mikrogrønt er så meget mere end et drys karse på smørebrødet og spirer kan være andet end et tilskud til salaten. Personligt bliver jeg nok aldrig den store spiredame, men det er Rita Galchus. I USA er hun kendt som "spiredamen Rita". Det er altså en erfaren dame, som deler ud af sine erfaringer.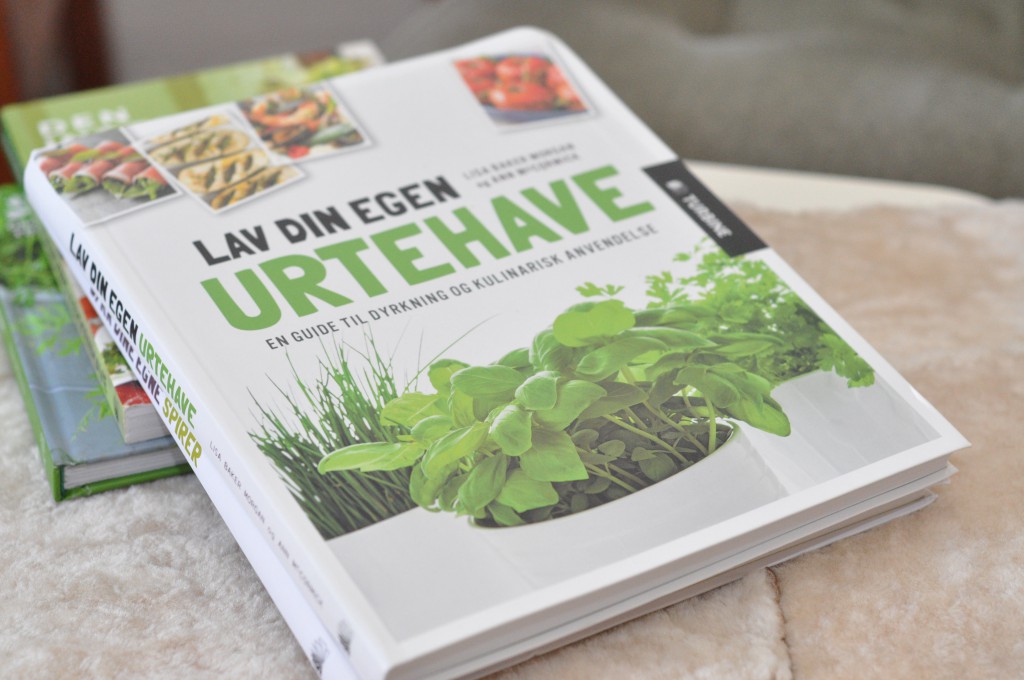 Lav din egen urtehave af Lisa Baker Morgan og Ann McCormick/ Udgivet af Turbine forlaget/ ISBN 978-87-4060-165-7/ Kr. 249,95
"Lav din egen urtehave" er et samarbejde mellem gartneren Ann McCormick og kokken Lisa Baker Morgan. Den første del af bogen handler om dyrkning af krydderurter, mens den anden – og langt større – del er opskrifter og gode råd til anvendelse. I virkeligheden burde den måske have haft titlen "Brug dine krydderurter". Når det gælder dyrkning af krydderurter finder du nemlig bedre og mere omfattende bøger om emnet. Bogen er altså mere til den, som har lyst til at vide noget om krydderurters anvendelse i køkkenet. Med de briller på er det en inspirerende og lærerig bog. Det er ikke et stort værk, men en lille overskuelig bog med de mest almindelige krydderurter. Alt starter i det små.
Har du læst en havebog i 2015, som du vil anbefale? Del gerne titlen i kommentarfeltet. Man kan ikke læse for mange havebøger.