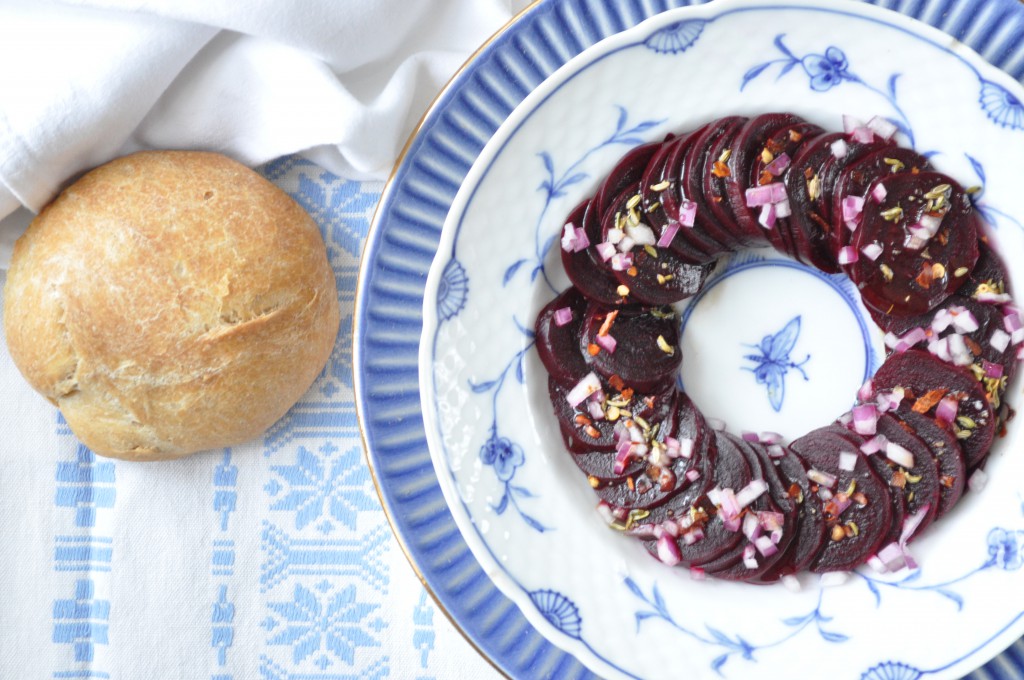 Beetroots make fantastic salads in winter. I´m crazy about their touch of sweetness and the soft bite. In this salad the sweetness is contrasted by chili and fennel.
Beetroot salad with chili and fennel (Serves 4)
aprox 500 gram beetroot

5 tbs olive oil

salt and pepper

2 tsp fennel seeds

½ tsp chili flakes

1 red onion

2 tbs balsamic vinegar
Preheat the oven for 200° C.
Wash and dry the beetroots. Put them in a bowl. Add 1 tbs olive oil and toss to coat them. Place each one in a foil square, large enough to envelope it. Add salt, pepper and half of the fennel seeds. Wrap and place them directly on a rack in the middle of the oven. Bake for about 1 hour, until the beetroots are tender. Test for doneness by opening one package and inserting a knitting needle or similar into the beetroot. If it meets no resistance, the beetroot is cooked. 
Remove the beetroots from the oven, unwrap them and discard the foil. When cool enough to handle, peel each beetroot and thinly slice them. Arrange on a dish. 
Cut the red onion in small squares and sprinkle them over the beetroots. Mix 4 tbs. olive oil, 2 tbs. balsamic vinegar, 1 tsp. fennel seeds, ½ tsp. chili, salt and pepper and add it. Leave the salad at room temperature for at least 1 hour. If longer than 4 hours, keep it in the fridge. This is a salad that you can make a day ahead. It only gets better. 
---

---