Vi kender den som vintergæk, men sådan har det ikke altid været. Den smukke hvide vinterblomst har gennem tiden haft mange forskellige navne.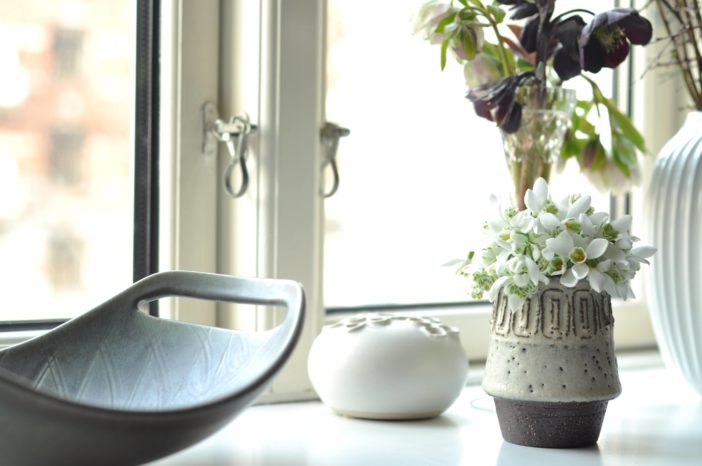 I denne tid står der så ofte som muligt en stor buket vintergækker på mit bord. Årets første rigtige blomsterbuket plukket i egen have. Det er luksus og ufortyndet livsglæde. 
Vintergækken er en enkel og elegant blomst. Hvid som sneen med et strejf af grønt. Både den dråbeformede almindelige vintergæk og den dobbelte "Flore Pleno" står i haven. For mange år siden udvidede jeg med to nye sorter, men jeg tror, de er forsvundet. Man skal have en sans for de bittesmå detaljer, for virkelig at sætte pris på de mange forskellige vintergækker. Måske er jeg mere til de store linjer. I hvert fald glæder jeg mig først og fremmest over det store tæppe af vintergækker, som breder sig ud bagerst i haven lige nu og forsyner mig med små velduftende buketter til bordet. 
Fra naturen til haven
Slægten Galanthus vokser vildt i Syd- og Mellemeuropas løvskove og består af omkring 20 arter. I mange hundrede år er det dog udelukkende den almindelige vintergæk (Galanthus nivalis), som er kendt i vores del af Europa. Det er først sent i 1800-tallet, at de andre arter følger med. For eksempel ser vi for første gang i 1886 Galanthus elwesii i et salgskatalog fra Hørsholm Planteskole. På det tidspunkt er Galanthus nivalis vidt udbredt i de danske haver.
Nogle mener, at romerne bringer vintergækken med til England. Andre hælder til, at englænderne må vente lige så længe som os heroppe i det kolde Norden. Helt sikkert er det, at ingen ved helt nøjagtigt, hvornår den første vintergæk kommer til de nordeuropæiske haver. Hans Raszmussøn Block nævner vintergækken i sin havebog "Horticultura Danica" fra 1647, så på det tidspunkt er den almindelig i Danmark. Højst sandsynligt er det munke og nonner, som bringer vintergækken med til landet i middelalderen. Vintergækken er nemlig også kendt under navnet kyndelmisselilje. Et navn tæt forbundet med kirken. Ved Kyndelmisse (d.2.februar) er der lysfest i kirken, som en fejring af at halvdelen af vinteren er gået. Samtidig markerer dagen Maria Renselsesdag. Den dag hun igen kan komme i kirken efter at have født. Normalt forbinder vi den hvide lilje med Maria, men måske har vintergækken været en værdig erstatning på denne kolde vinterdag langt mod nord.
Det er Carl von Linné, som i 1735 giver alle vintergækker slægtsnavnet Galanthus, hvilket stammer fra græsk gala (mælk) og anthos (blomst). Næsten tyve år efter beskriver han den almindelige vintergæk Galanthus nivalis i sit store værk "Species Plantarum" fra 1753. Tillægsordet nivalis betyder "af sneen". Linné med et strejf af poesi, men også en ret præcis beskrivelse. Med sin tidlige blomstring sker der enten det, at vintergækken titter op af sneen eller kommer lige efter den er smeltet. Begge scenarier gør, at den kommer "af sneen". Efter en del tovtrækkeri bliver vintergækken endeligt placeret i Påskeliljefamilien (Amaryllidaceae) i 1805. Det kan Jean Henri Jaume Saint-Hilarie tage æren for.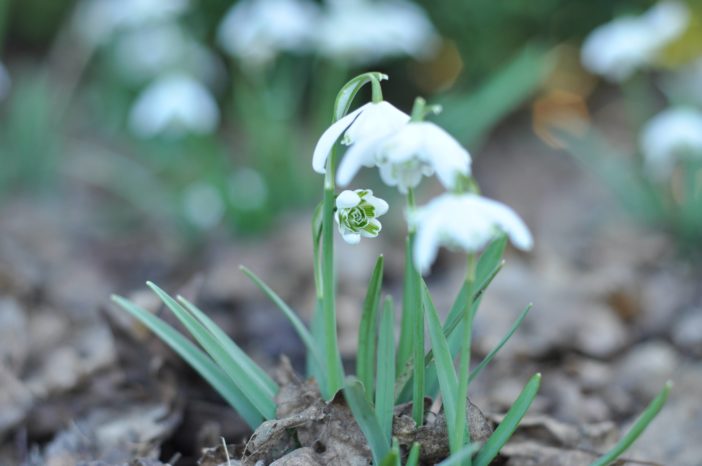 Et lille slag for sommergæk
I folkemunde har vintergækken haft mange navne. Blandt andet kyndelmisselilje, februarlilje, snebryder, sneklokke, hvidklokke og snegæk. I midten af 1800-tallet er vintergæk og sommergæk de eneste tilbage og der opstår en mindre kamp. Vintergæk er på vej til at blive det almindelige navn, men en  lille gruppe ønsker at bibeholde navnet sommergæk. En af disse er retspræsident Adolph Drewsen. Han er en god ven af H.C.Andersen, som han overtaler til at skrive eventyret "Sommergækken". Et ganske klogt træk, som dog ikke hjælper. Vintergæk vinder. At drive gæk betyder jo at drille og i princippet er det et spørgsmål, om det er sommeren som driller (sommergæk) eller om det er vinteren (vintergæk). Vi ender altså på, at det er vinteren, som driver gæk med os. Nemlig ved at få os til at tro, at det er forår, når vintergækken blomstrer, selvom vinteren langt fra er slut.
Der findes utallige sorter af den almindelige vintergæk. Min egen favorit, den dobbelte vintergæk Galanthus nivalis f. pleniflorus "Flore Pleno", bliver i den tidlige danske litteratur ofte forvekslet med dorothealiljen. Derfor er det svært at sige, hvornår den kommer til Danmark, men i England kender man den fra starten af 1700-tallet. Generelt er "Flore Pleno" meget populær i alle dele af 1700-tallets Nordeuropa, så mon ikke også det gælder Danmark.
Hvis du har lyst til at dykke ned i vintergækkens mangfoldighed, så er der denne weekend fokus på vintergækker hos Gartneriet Spiren ved Skælskør. Her kan du se – og købe – en stor variation af forskellige vintergækker og lære meget mere om dem gennem foredrag og snak.