En havetur i Lund er en energibooster i februar. Vi besøgte tre steder i Lund, hvor haveglæden kan udfolde sig på en kold og snedækket vinterdag.
Kan man virkelig skrive om have i februar?, spurgte en bekendt forundret den anden dag. Ork, ja, man kan sågar tage på havetur i Lund. Og, det var lige, hvad vi gjorde i dag.
Første stop var Lunds botaniske have. Allerede i 1600-tallet havde Lunds Universitet en botanisk have. Dengang lå den i forbindelse med det medicinske fakultet i centrum af byen. Haven havde sine op- og nedture de næste 200 år indtil den i 1862 fik en helt frisk start på sin nuværende, og dengang nye, placering uden for voldene. Tilknytningen til universitetets forskning beholdt den botaniske have indtil 1972. Så var det igen blevet tid til en modernisering og i dag ligger forskningen i mere moderne lokaler, mens Lunds botaniske have primært fungerer som et sted for formidling.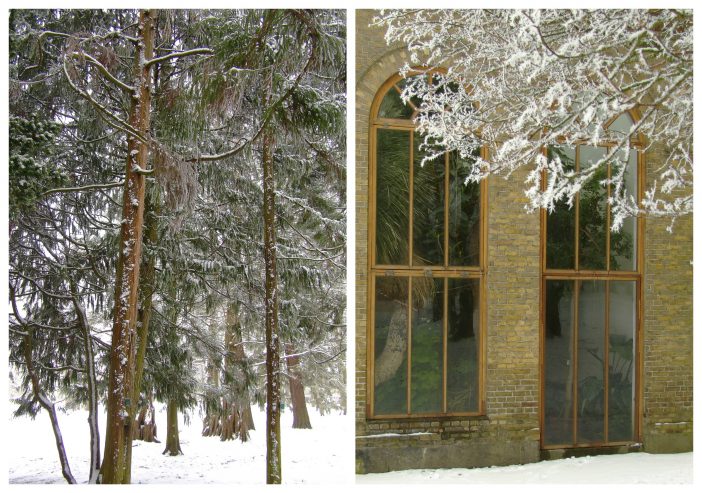 På en kold og snedækket vinterdag er det hverken køkkenhaven, den medicinske have eller staudehaven som trækker, men de mere end 200 træer og buske samt lidt vinterterapi i væksthuset.
Der er noget helt særligt ved at gå fra kulden og den hvide sne ind i alt det grønne og den tropiske varme. Det er godt for sjælen på en februardag.
Væksthuskomplekset stod færdigt i 1865. Rent arkitektonisk kan det på ingen måde sammenligne sig med det næsten samtidige Palmehus i København, som er et langt mere ambitiøst byggeri passende for en hovedstad, men det lille orangeri i Lund er en smuk bygning, som de øvrige væksthuse, bygget i glas, samler sig omkring. 9 afdelinger er der i komplekset af væksthuse. Fra duftende krydderier som allehåndetræet i Kryddpepparhuset over blomstrende orkideer i Orkidehuset til stikkende grønne kaktus i Kaktushuset går man lunt og godt i temperaturer fra 15-25 C. Ganske passende på en kølig vinterdag.
Inspireret af al den grønne rigdom i Lunds botaniske have var næste stop, på vores lille havetur i Lund, Lilla Fiskeragatans Trägårdsbutik. Februar er slet ikke for tidligt at begynde at planlægge haven og med det store frøudvalg i butikken blev der taget store beslutninger. Det tog sin tid. Lidt nyt haveudstyr fandt vej ned i kurven til alle frøene. Det tog også sin tid. Lilla Fiskeragatans Trädgårdsbutik er et mekka for haveelskere med et stort udvalg, som jeg ikke lige kan finde en dansk pendant til.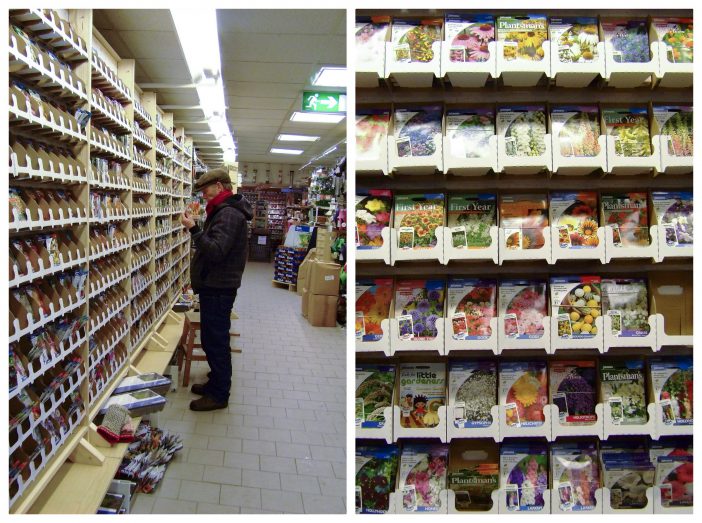 Afslutningen på vores havetur i Lund var et smut forbi Pressbyrån på banegården. Tidsskrifter er langt billigere i Sverige på grund af den lave moms og udvalget er stort. Et par haveblade til togturen hjem, fik vores havetur til at vare lidt længere.