I dag kom sommeren på besøg. Sådan to trediedele inde i foråret. Og, selvom vi længe har siddet i haven og nydt vores kaffe, så lovede dagen i dag, at der vil komme dage, hvor vi kan sidde omkring bordet hele dagen. Lige når vi vil. Det fik mig til at gå i arkivet for at finde inspiration til spisepladser i haven. Her fandt jeg fem meget forskellige. Se med herunder.
Da vi sidste år besøgte Ina fra "Annas Plads" faldt jeg pladask for denne siddeplads i haven. Omgivet af blomster og beskyttet af væggen er det et rigtigt dejligt sted at sidde.
I min veninde Dortes have er der mange siddepladser. Blandt andet dette bord. Der er noget helt særligt ved at sidde på græsplænen og spise. Bordet står i læ af to vægge, og der er udsigt over marken mod skoven. Sådan en sommerdag, hvor fuglene kvidrer og solen bager er det et rigtig godt sted at sidde.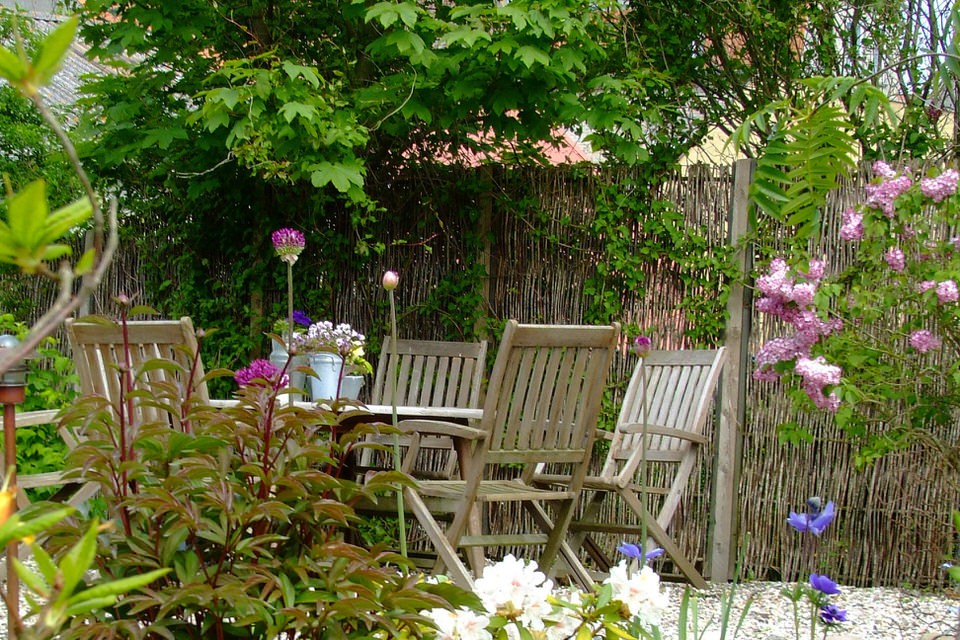 For nogle år siden besøgte jeg Langeland og i en baggård fandt jeg denne dejlige lille spiseplads. Igen er der læ og siddepladsen er beskyttet. En af de vigtigste ting jeg har lært ved at være nybygger er, at siddepladser skal være beskyttet mod nysgerrige blikke! Træet danner et lille halvtag og perlestenene laver den skønneste lyd, når man kommer gående.
De sidste to spisepladser er fra henholdsvis Lisbeth Kaares have, som vi besøgte for nogle år siden og fra Apotekarns Trädgård i Simrishamn (Sverige). Begge er meget stilrene. Enkle men effektfulde.