Narcisser er essensen af forår, når de står under træerne og lyser op i deres lyse toner i april/maj måned. De er nemme at formere og gør sig godt i vasen.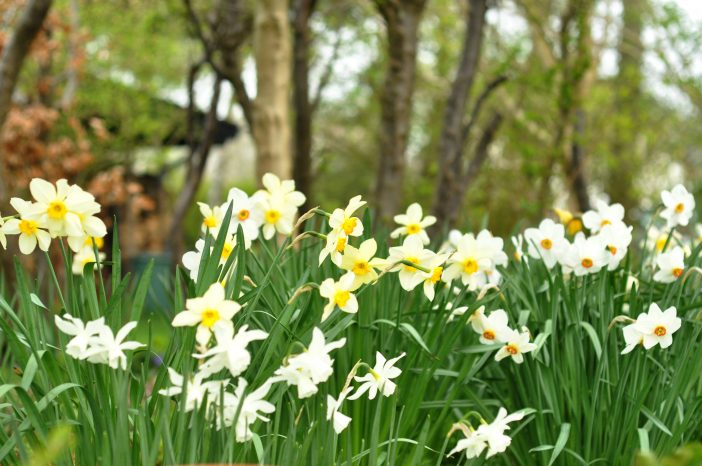 Narcisser er mine absolutte favorit blomster på denne tid af året. For mig er de selve essensen af forår. Allerbedst når de står tæt i flok. Og, det gør de her hos mig. Nede i skovbedet under de blomstrende mirabelletræer. Bedre bliver det ikke.
Der findes et hav af forskellige narcisser. Slægten narcissus indeholder cirka 50 arter og et utal af sorter, men ikke alle er lige tilgængelige for den almindelige haveejer. Det betyder nu heller ikke stort for mig. Jeg har cirka 14 forskellige narcisser, og det rækker foreløbigt for mig. Blandt dem er den klassiske pinselilje, Narcissus poeticus. Den hører til i haven ligesom den klassiske gule påskelilje, Narcissus pseudonarcissus.
Formering og pleje
Narcisser formerer sig gerne og få bliver hurtigt til mange. Allerbedst er det at dele dem, lige når de er afblomstrede. Ligesom med så mange andre løgblomster. Sætter du nye løg, så gør det i  efteråret. Under alle omstændigheder har narcisser godt af gødning i løgenes vækstsæson. Når blomstringen er ovre, skal bladene have lov til at visne ned, inden du klipper dem væk. Det giver løgene ny energi til næste sæson. Hos mig får de lov at visne helt væk. Ingen grund til at gøre naturens arbejde. 
Pluk, pluk, pluk
Det er fuldt tilladt at plukke buketter. Hver dag. Som med så mange andre blomstrende planter producerer de flere blomster, hvis du plukker til vasen eller klipper de visne blomster af. Men vil du blande dem i en buket med andre blomster, skal du først lade dine narcisser trække mindst 6 timer alene i vand. Det skyldes, at løg og blade danner giftige krystaller, som vil få andre blomster til at visne, hvis giften ikke først er trukket ud af narcisserne. Sørg for frisk vand til buketten, når du har bundet den. Det er også denne gift som gør, at rådyr og gnavere holder sig langt fra narcisser. En stor fordel i en have som vores, hvor der er mange rådyr.