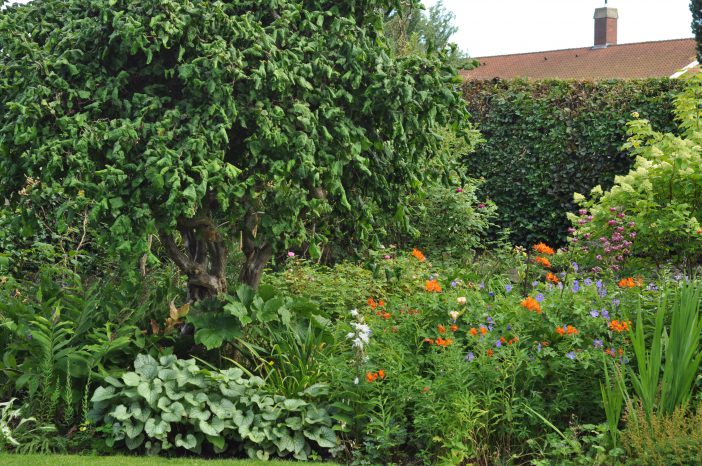 Under den kommende weekends havefestival (13.-14. august 2016) åbner over 200 haveejere havelågen og byder alle velkommen til deres have. Weekenden byder på en mangfoldighed af haver. Både de sirligt anlagte og de vilde haver, hvor ukrudt også er en blomst. Temahaver og haver, hvor mangfoldighed i sig selv er et plusord.  Landskabshaver, landbohaver, parcelhushaver og kolonihaver. Det kan være svært at vælge. Jeg har spurgt fire andre havebloggere, hvad de anbefaler i deres område og suppleret med mine egne anbefalinger. Fra det nordlige Jylland til det sydlige Møn.
Nordjylland
Birgitte med bloggen Birgitte på nettet holder til i det nordjyske og hun anbefaler følgende to haver:
Birgitte holder selv åben have torsdag d.18.august kl.19-21. Altså ikke under selve havefestivallen, men 4 dage senere. Hold øje med bloggen for nærmere information.
Foto: Henrik Eriksen – Den franske have
Østjylland
Henrik med bloggen Havehjernen bor ved Vadehavet, men begiver sig gerne ud på en lille køretur for at se på have. Han vil nemlig gerne se Den Franske have ved Århus. Som han siger, så er det spændende at se en så stor have i sin spæde start. Har du fulgt med på bloggen Den franske have, så ved du, at det er et storslået projekt, som i sin tid startede i en parcelhushave i Århus. Nu er det ikke kun haven, som er fransk, men også huset. Parcelhuset er skiftet ud med et større hus i Mårslet og med det en større grund at udfolde sig på. Mange af planterne har Henrik Eriksen, som ejer Den franske have, selv haft med hjem fra Frankrig. Der bliver flittigt lavet stiklinger og sået frø til nye planter. Haven er åben begge dage 10-17 og I må gerne spise jeres medbragte mad i haven. Adressen er Hørret Byvej 6, 8320 Mårslet. 
Nordsjælland
Lisbeth med bloggen Countryliv bor i Region Hovedstaden, hvor fra hun anbefaler tre haver.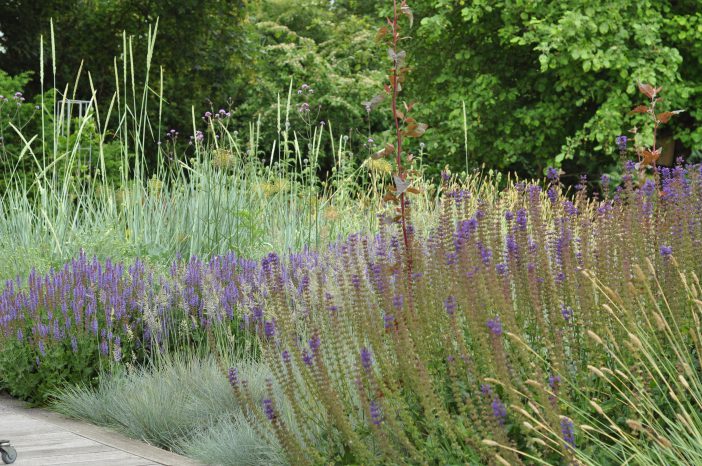 Sydsjælland
Sydsjælland er mit eget område. De følgende tre haver har jeg alle besøgt flere gange. Med lige stor fornøjelse hver gang.
Foto: Hans Sattrup og Keld Nielsen – Landbohaven i Ålebæk
Møn
Ina med bloggen "Annas plads" har valgt at tage udgangspunkt i sommerhushaven på Møn. Hun anbefaler at tage en tur omkring Ålebæk.
Ina holder selv åben have i sommerhushaven på Møn. Haven i Busene består fortrinsvis af en lang smal have ned mod engen og udsigten udover vandet. Her er buske, træer og staudebede. Alle anlagt så de passer ind i sommerhuslivet. Haven har åbent lørdag 12-17. I må gerne spise jeres medbragte mad og der kan købes kaffe og kage samt planter. Adressen er Busenevej 48, Busene, 4791 Borre.
Skal du til havefestival? Brænder du for at anbefale din yndlingshave? Eller har du fundet en fantastisk have, du glæder dig til at se? Kommentarfeltet er åbent.