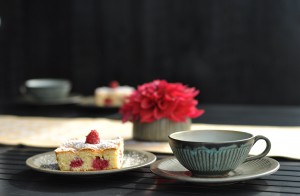 The tea set Graasten from Danish Lovemose is a meeting between Japanese elegance and Danish minimalism. The clay is thin like porcelain. The cup almost hover on the saucer. If you take a look at antique Chinese and Japanese cups it´s obvious where the inspiration for the shape comes from. The subdued glaze, sometimes dusty green, sometimes coal grey with steelblue contrast, adds a Nordic coolness to the tea set. A very popular retro tea set, but still possible to find at a reasonable price.
Graasten tea set
Year: Late 1960´s – early 1970´s
Country: Denmark
Material: Stoneware
Production: Lovemose
Lovemose was a minor pottery based at the Danish island Langeland. Established in the beginning of the 1940´s by husbond and wife Johannes and Marie Hansen. Lovemose closed down in the 1980´s.