Mælkebøttesalat a la Alsace er en dejlig salat, hvor bacon og æg spiller godt sammen med de let bitre mælkebøtteblade.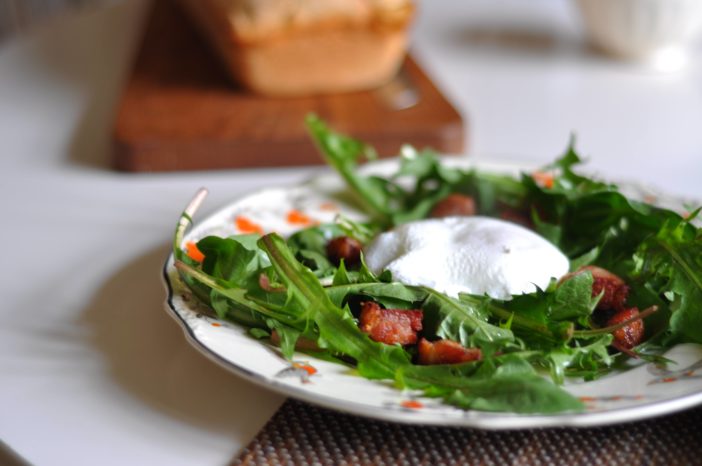 Mælkebøttesalat er forårets hit her i huset. Tilsat fedme og syre i form af en god olie og rigeligt citronsaft er der et behageligt bid i de let bitre mælkebøtteblade. Det vigtige er at gå udenom de grove blade og kun tage de fine, hvor bitterheden er lige tilpas. En særlig delikatesse er de blege, hvide skud, som kommer når mælkebøtten har stået i skygge under en sten – eller en spand, hvis du vil tvinge den. Det eksperiment foregår lige nu i vores køkkenhave, hvor et lille bed er dedikeret til mælkebøtter. På den måde håber vi også at kunne spise mælkebøttesalat hele sommeren. Ved at plukke planten tvinger vi den til at producere nye blade, som matcher de spæde forårsblade. Håber vi.
I Alsace har de virkelig forstået det med at tilsætte fedme og syre. Mælkebøttesalat med bacon og pocheret æg er et dejligt let måltid med god smag. I min opskrift består syren af citronsaft, men den kan selvfølgelig også bestå af vineddike. I nogle opskrifter er det alene eddike, som udgør dressingen. Altså ingen olie. Det synes jeg bliver lige skarpt nok, så min inspiration kommer fra opskrifter med en klassisk dressing. Citronsaft giver et frisk pust, som eddike ikke kan måle sig med, men har du ikke citron, så går eddike lige så fint. I det hele taget så lad dig inspirere. Målene er vejledende.
Mælkebøttesalat a la Alsace (2 prs.).
300 gram mælkebøtteblade
150 gram bacon i tern
2 pocherede æg
Dressing:
4 spsk olivenolie smagt til med rigeligt citronsaft, salt og peber
Vask og tør mælkebøttebladene. Arranger dem på to tallerkner. Steg baconterningerne og lad dem afdryppe på et stykke fedtsugende papir. Lav dressingen og hæld den ud over bladene. Fordel baconterningerne oven på bladene. Pocher to æg og læg dem på toppen. Server.
Pocheret æg:
kog vand, en lille smule salt og eventuelt eddike op i en gryde (ca.1 spsk. eddike til 1 l. vand)

slå et æg ud i en kop

skru ned for vandet så det lige nøjagtig skælver, men ikke koger

hæld ægget forsigtigt i vandet og lad det blive der i ca. 3 minutter

tag ægget op med en hulske og lad det afdryppe
Pocheret æg bliver allerbedst med helt friske æg, men har du ikke det, hjælper eddiken med at samle hviden omkring blommen. Kom ikke for mange æg i gryden ad gangen.