Efterårsferien synger på sidste vers og det er blevet til mange udflugter. Ja, nogle vil nok betegne vores tre dage i Jylland som ferie. Det vil vi bestemt også selv. Men det blev også til den store inspirationstur, hvor jeg fik mange nye ideer. Både til butikken og til haven. 
Vores udgangspunkt var Hjarbæk ved Hjarbæk Fjord. Her overnattede vi på Hjarbæk Bed´n Breakfast, som også huser Butik Remme. En butik der rummer en perlerække af "nødvendigheder" til haven i en stil som passer godt ind sammen med genbrug. Blandingen af nye og brugte ting balancerer lige i øjet. Det hele er meget smagfuldt sat op og det er lige der fristelserne bliver for store. For hvem kan modstå det? Ja, jeg kan ikke.
Tilbage til Bed and Breakfast delen så sov vi godt og roligt i pigekammeret, som også rummer en kontordel, hvor man kan sidde og arbejde med sin computer. Byen Hjarbæk er et gammel hyggeligt fiskerleje med mange gode gåture. Den første morgen gik jeg mig en tur i byen. Inden vi satte os til det veldækkede morgenbord. Her fik vi os en god snak med Hannah og Arne som ejer Hjarbæk Bed and Breakfast samt Butik Remme. Næste morgen sov jeg længe. Sådan en Jyllandstur kræver en god nats søvn.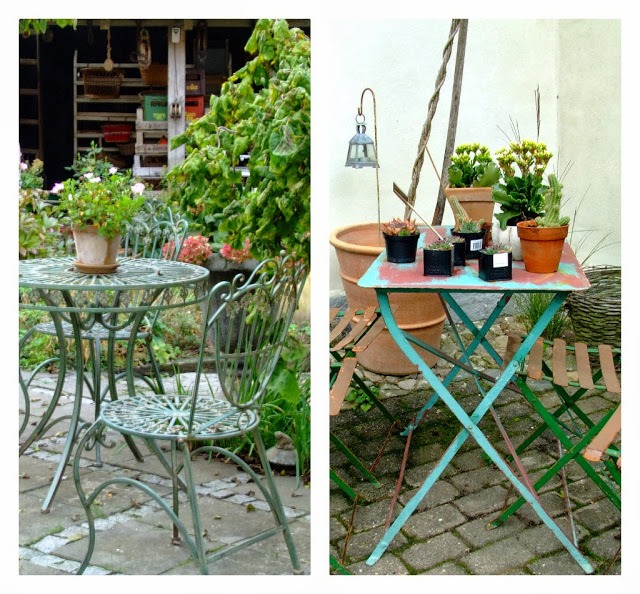 Her i krydsfeltet mellem Midt-, Nord- og Vestjylland varier landskabet på få kilometer. Det ene øjeblik kører du gennem sandede marker, hvor kartoffelferie virkelig lever op til sit navn. Det andet øjeblik er du omgivet af endeløse rækker af grantræer. I udkanten af plantagerne står grantræerne forhutlede, vinde og skæve. Du er nu på heden. Et fladt og tørt landskab. For senere at køre gennem det for de fleste så velkendte landbrugslandskab. Fed og sort muld.
Her ligger Spøttrup Borg. En gang hovedsæde for bispen. For selvfølgelig ligger bispesædet, hvor der er gode dyrkningsforhold. Ingen magre jorde til kirkens overhoved.
Spøttrup Borg er Danmarks bedst bevarede middelalderborg og er absolut værd at besøge. Til borgen hører også et større haveanlæg med frugthave og lægeurtehave. Vi havde ikke meget tid og holdt os til borgen og lægeurterne. Haven er bedst at se om sommeren, når den står i fuldt flor, men skiltene står hele året og fortæller, hvad planterne gør godt for.
I nærheden af Spøttrup Borg ligger Tingfinderiet. Tre længer med antik, retro og genbrug. Et sandt inspirations-bombardement, som får sit helt eget indlæg. Der er nemlig mange gode ideer at hente til genbrug i haven hos Tingfinderiet. Indlægget finder du HER.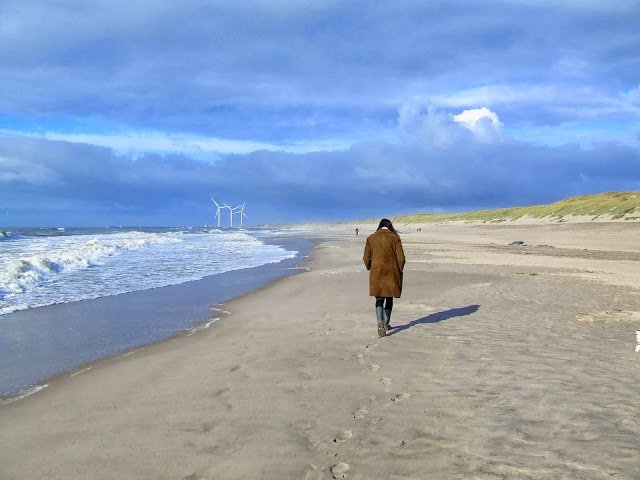 Vi tog afsked med Jylland ved Vesterhavet. Selv i højt solskin og med stort set ingen vind brøler havet og sender kaskader af hvidt skum ind mod bredden. En passende afslutning på tre skønne dage i Jylland.
---
Adresser:
Vi overnattede på Hjarbæk Bed and Breakfast, Hjarbækvej 8, Hjarbæk, 8831 Løgstrup (- og det udtales altså "Løvstrup", hvis du vil falde i med de lokale). 
Vi spiste rigtig godt på Højslev kro, Viborgvej 220, 7840 Højslev
Vi shoppede i Butik Remme i.f.m. Hjarbæk Bed and Breakfast samt hos Tingfinderiet, Buksager 9, Krejbjerg, 7860 Spøtterup.
Vi besøgte Spøttrup Middelalderborg, Borgen 6A, 7860 Spøttrup