Jeg har samlet alle mine yndlingssteder på Jungshoved og deler ud af tip til både naturelskeren og den som gerne vil have lidt kultur. Hele halvøen kan mageligt nås på en dag. Også på cykel. Men Jungshoved har også mange fine overnatningsmuligheder, for dem som gerne bliver en ekstra dag eller to.
Roneklint Skanse og Maderne
Mit absolutte yndlingssted nummer et er strandengene ved Maderne. Her kigger jeg langt. Både udover landskabet, men især udover Præstø Fjord og Faxe Bugt mod Østersøen i det fjerne. Meget af området er fredet til stor glæde for plante- og dyrelivet. Det er et godt sted at kigge på fugle. Både dem som bliver i landet og trækfuglene som flyver henover forår og efterår. Er man særlig heldig kan man se en havørn højt på himlen. I fugletårnet ved parkeringspladsen har man et ekstra godt overblik. Her kan man også søge i ly. Både foroven og i rummet forneden. Fugletårnet ligger på Roneklint skanse. Bygget i 1808 under Englandskrigene (1801-14), som led i et større forsvarsværk langs den danske kyst. Det er ikke den eneste krig området har været med i, men om det er sandt, at svenskerne gik gennem isen ved Maderne, lokket af Ib, Svend Gønges ven og næstkommanderende, er nok tvivlsomt. Carit Etlars beskrivelse af Gøngehøvdingen og Ibs bedrifter under Svenskekrigene (1658-59) er trods alt fiktion.
Fuglebænke
På vej ud mod Maderne står en af de mange fuglebænke, som i sommerhalvåret er placeret rundt omkring på Jungshoved. Her sidder jeg nogen gange og kigger ud over strandengen. Særlig godt er det ved solnedgangstid. Hvis du ser en fuglebænk på din vej rundt på halvøen, kan du være ret sikker på, at udsigten er god. Bænkene er lavet af frivillige og skænket af borgere og foreninger på Jungshoved. Fuglene er malet af den lokale kunstner Jopie von Horn.
Jungshoved kirke og slotsbanke
Et andet sted, jeg holder af at køre hen, er ud til kirken og slotsbanken. Også her er der kig udover vandet. Denne gang udover Bøgestrømmen og Jungshoved Nor. Mellem kirken og slotsbanken ligger en hyggelig lille lystbådehavn. I gamle dage var det herfra man fragtede roehøsten videre til sukkerfabrikken. Min yndlingstur er slotsbanken rundt. Det er en naturskøn tur med et kulturhistorisk strejf og den er meget kort. Det er nemlig ikke et kæmpe borganlæg og man ved ikke meget om den bebyggelse, der har ligget her. Ikke meget andet end, at den har været begrænset på grund af arealets størrelse. Om foråret er der masser af løgblomster, så der har højst sandsynligt været en slags have. Fornuftigt fodtøj er en stor fordel, da der går får på slotsbanken. Jungshoved slot er selvfølgelig også med i Gøngehøvdingen. Her er Svend Gønge til audiens hos kongen. I kirken er der nogle få kalkmalerier og et relief at Bertel Thorvaldsen. Kirkegården er bestemt et besøg værd. Det er ikke mange kirkegårde som har så mange flotte formklippede buske.
Informationsskabe
Rundt om på Jungshoved finder du informationsskabe med forslag til vandreture samt information om området. Der er også laminerede rutebeskrivelser du kan låne med på vandreturen. En tur, jeg ofte går, er den der udgår fra Bønsvig. Turen hedder Bønsvighoved skov. Her kommer man ind gennem en meget varieret skov med et smut ned til vandet og passerer også et par fortidsminder. Blandt andet Svend Gønges hule. Gøngehøvdningen er over det hele på Jungshoved. Jeg anbefaler, at man tager et smut omkring lodshuset. Her er der borde og bænke og man kan nyde udsigten til Nyord og Møn. Eventuelt mens man spiser sin madpakke. Turen er på 4 km og slutter hvor den startede. I Bønsvig.
Informationsskabene er opsat i Bønsvig, Stavreby, Stenstrup (alle ved gadekæret) og Roneklint by samt ved Jungshoved slot.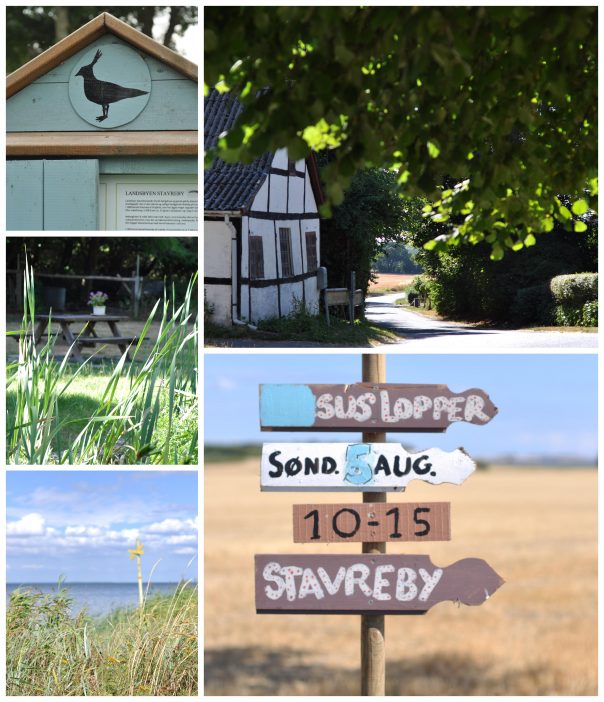 Landsbyerne
Der er flere hyggelige landsbyer på Jungshoved. Alle meget idylliske og med skøn landsbystemning. Sidder du ved gadekæret i Stenstrup og kigger over mod den store gård overfor, forventer du nærmest at se Poul Reichardt komme syngende ud af porten. Eller også har jeg bare set for mange gamle danske film.
Den største af landsbyerne er Stavreby og her slår jeg ofte et smut omkring. Det er en meget aktiv by, som holder åben landsby et par gange om året med loppemarked, kunst og pop-up caféer. I den gamle vandværksbygning er der ofte sjove udstillinger, som involverer beboerne. Et år viste børnene billeder af deres Stavreby. Deres yndlingssteder og de ting de holder af i landsbyen. Som at gå ned på havnen og lege de sejler ud på et stort skib. Havnen er Danmarks mindste fiskerihavn og ejes af det lokale bådelaug. Det er en meget hyggelig lille havn med et helt specielt toilet ude på vandet. 
Mad, drikke og lopper
Muldiverset
Er du til gode lokale råvarer og spændende veltillavet mad, så tag en tur forbi Muldiverset i Stavreby. Her er der både butik og café med frokost, kaffe og lagkage samt folkekøkken på udvalgte aftner. Det er ualmindeligt hyggeligt at sidde i deres have og nyde lidt godt til ganen. Og det ender ofte med, at jeg køber noget med hjem. Der åbent tors-søn på adressen Stavreby Strandvej 36, 4720 Præstø
Marensminde
Det er også i Stavreby, at gårdbutikken Marensminde ligger sammen med en lille pop-up café. Der er ingen faste åbningstider, men åbent når Gerda er hjemme. Det er absolut værd lige at slå et smut omkring for at se, om hun er det i dag. Jeg er specielt vild med hendes rabarbersaft, men har også svært ved at modstå hendes bagværk. På Marensminde er der også B&B. Det hele ligger på Stavreby Strandvej 41, Stavreby, 4720 Præstø.
Jungshoved Købmandsgård
I Jungshoved by er den gamle brugs indrettet med loppemarked og en lille kiosk. Her kan man købe kaffe og is. Adressen er Jungshovedvej 51, 4720 Præstø.
Overnatning
Tænker du, at en dag er alt for lidt, så er der flere muligheder for overnatning på Jungshoved. Både for de magelige og for dem som holder af at overnatte i naturen. På Jungshoveds hjemmeside finder du en liste over overnatningsmuligheder.