Lise Gartmanns første møde med vilde blomster i haven ligger mange år tilbage, men mødet fødte en drøm. En drøm hun i dag har fuldført i sin egen have. Drømmen om en naturlig have i balance uden at være vild og rodet. En naturlig have med stil. Erfaringerne deler hun med os i bogen "Vilde blomster i haven. -En magnet til masser af liv" på forlaget Siesta. En grundig og inspirerende bog, som går langt videre end de vilde blomster. Bogen giver en introduktion til en have, som summer af liv. Hvor de vilde blomster og andre gode betingelser for fugle og insekter skaber balance i haven.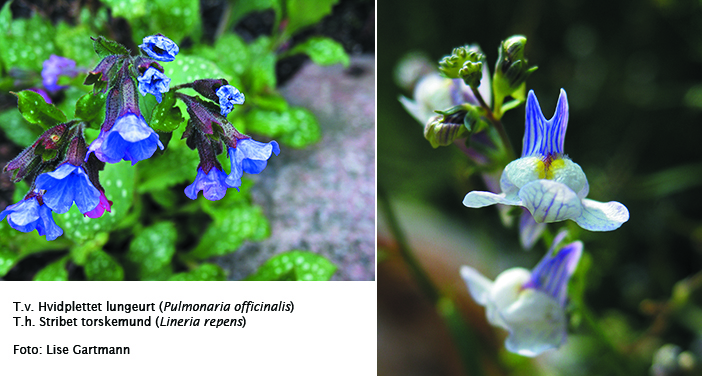 Lise Gartmann giver en grundig introduktion til frøsamling og dyrkning af vilde blomster. Hun gennemgår også en lang række af de vilde blomster, som er gode i haven. Og, advarer om dem som er mindre gode. De invasive arter. En stor del af de vilde planter Gartmann foreslår, har du måske allerede i haven. Lungeurt for eksempel. Min egen yndling året rundt. 
Et helt afsnit er dedikeret dyrelivet. Der er gode råd til, hvordan du tiltrækker blandt andet insekter, fugle og pindsvin. Og, Gartmann fortæller, hvad de forskellige dyr og insekter er gode til at hjælpe med. Alle de dyr som er vigtige for en have i balance.
Når det gælder indretning af haven er der masser af inspiration til genbrug. Både af naturens materialer, samt af ting og materialer, som let kunne ende deres dage på genbrugspladsen. Nu ender de som dekorative elementer i haven. 
Det eneste som ikke helt fungerer i bogen er det rent æstetiske. På mig virker alt for mange nærfotos i stort format lidt for anmasende. Blomster set gennem et makroobjektiv er godt. I små mængder. Selv taget på afstand med et almindelig objektiv er det muligt at genkende en blomst i naturen. Layoutet ville også have haft glæde af at gå gennem en grafikers hænder inden udgivelsen. Men det er alt sammen petitesser, som ikke hindrer mig i at tage bogen frem igen og igen. For den som gerne vil have inspiration til en have i balance er der både gode råd og masser af inspiration at hente i "Vilde blomster. – En magnet til masser af liv".