Det behøver ikke at være dyrt hverken at anlægge eller forny haven. Grundstammen i vores have er et staudebed vi fik foræret af nogle naboer, da haven var helt ny. Siden har vi tømt andre staudebede, som skulle nedlægges, har fået planter af venner og familie og samlet frø fra både egne og andres blomster. Ind i mellem køber vi en plante, men strengt taget kunne vi klare os med det, vi får foræret. Herunder får du 5 tips til en budgetvenlig have. Tips vi selv bruger for at strække budgettet, men som samtidig giver os en have med historie og venlige tanker til venner og bekendte.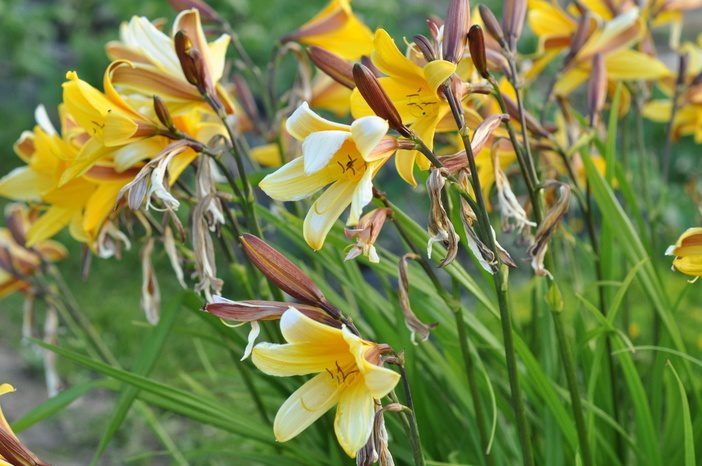 Få stauder forærende
Stauder kan du ofte få fra andre haveejere. Spørg næste gang du er på besøg. De fleste deler meget gerne ud af deres stauder. Du kan også kigge i lokalavisen og på sider som Gul og gratis samt Dba. Her sætter private af og til hele staudebede til salg eller gratis afhentning, hvis du selv graver op. En tredie  mulighed er at fortælle naboer og hvem du ellers snakker med i lokalområdet, at du er interesseret i stauder. På et eller andet tidspunkt når budskabet en haveejer, som er ved at nedlægge sit staudebed. 
Tag på plantemarked.
Forår og sommer arrangerer de forskellige afdelinger af Haveselskabet  plantemarkeder, hvor private sælger ud af deres planter. Det er ikke gratis, men ofte meget billigere end i plantecenteret. Samtidig har du mulighed for at få fat i nogle planter, der ikke altid er tilgængelige kommercielt. Og, ikke mindst er det ualmindeligt hyggeligt. Ind i mellem kan du også være heldig at finde et plantebyttemarked, hvor du kan bytte dig til planter.
Frø.
Mange haveejere samler frø af deres blomster. Mange flere end de selv kan bruge. Du kan helt sikkert lokke en lille pose ud af dem. Ofte får du den faktisk uden at spørge. Du kan også gå på frøbiblioteket. Rundt omkring i landet dukker der flere og flere frøbiblioteker op. Blandt andet på Valby og Ordrup bibliotek. Hold også øje med frøbyttedage i dit lokalområde. Du kan også melde dig ind i Frøsamlerne.
Tøm køleskabet.
Især på denne årstid sker det pludseligt at løgene og gulerødderne spirer i køleskabet, hvis de ikke lige bliver brugt. I stedet for at smide dem ud, kan du plante dem i jorden eller en potte. Så får du de smukkeste skærmblomster senere.
Lav stiklinger.
Det er ikke alt det er let at lave stiklinger af, men med for eksempel lavendel og basilikum kan det stort set ikke gå galt. Du kan både lave stiklinger af egne og andres planter.