To naturlige adventskranse fra 2018 samt fire fra tidligere år er her samlet for at give dig masser af inspiration til årets adventskrans.
For mig er det virkelig en fornøjelse at lave min egen adventskrans. Så meget at jeg ind i mellem laver flere. I år er det for eksempel blevet til to. Ingen af dem er komplicerede, men den ene er lidt mere pyntet end mine adventskranse plejer at være. Jeg blev simpelthen så inspireret, af alt det jeg fandt i haven og i skoven.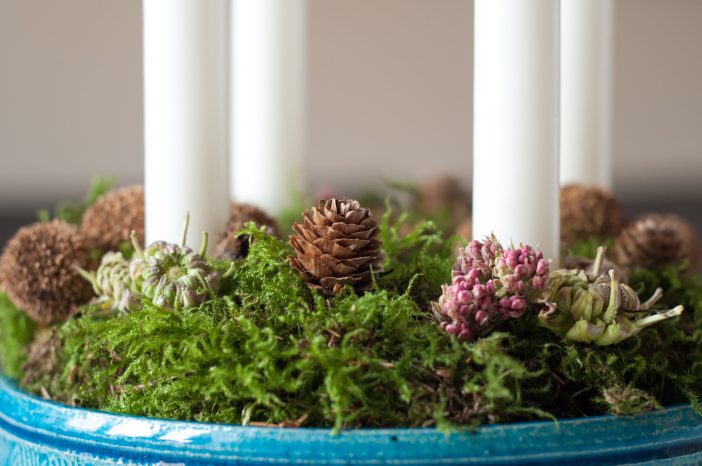 Som grundmateriale foretrækker jeg mos fremfor gran. Det er nemmere at arbejde med og kan friskes op med et strejf vand, når det tørrer ud. I år har jeg beklædt en ring af oasis og lagt den i et Kählerfad (Niels Kähler fra 1960´erne) med en høj kant. Kransen har jeg pyntet med kogler, morgenfruens frøstande, blomster fra kejserbusken, slangehvidløg og nogle runde frøstande jeg fandt på min vej. Det er en god ide altid at have en pose i lommen på gåturen. Både i byen og på landet. Der dukker ofte et eller andet spændende op. Jeg har fundet mange fine materialer i byens parker. Naturlige adventskranse er ikke forbeholdt folk på landet.
Den anden af årets naturlige adventskranse er noget mere minimalistisk. Birkebarken fandt jeg i Pinseskoven på Amager. Der har været så mange smukke dage i dette efterår. Perfekte til en tur i skoven eller parken. Alt det materiale jeg bruger, er derfor noget jeg har samlet i naturen. Selvfølgelig indenfor rammerne af, hvad man må samle. Selv det gran som dækker bunden af fadet, har jeg fundet. Der er mange fordele ved at hente materialer i naturen. Den helt åbenlyse er selvfølgelig, at det er gratis. Men det er også mere klimavenligt. Hvis du samler i dit lokalområde er transporten meget kort. Måske er du oven i købet på cykel eller gående. Du får masser af motion og frisk luft ved at samle materialer i skoven og parken. Røde kinder og godt humør er den helt store gevinst. For mig er det også et boost til min kreativitet.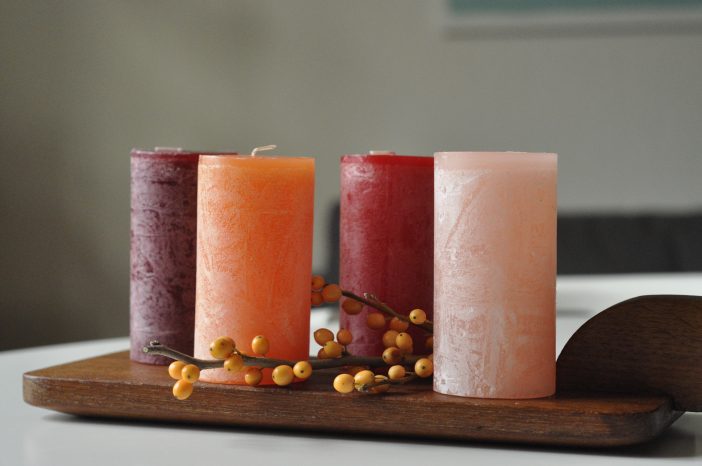 Nogle år har jeg dog delvist ladet mig inspirere af blomsterhandlerens udvalg. Som i denne adventskrans fra 2016. Det var året, hvor jeg lavede 3 enkle adventskranse. Måske blev de netop så enkle, fordi jeg ikke selv samlede alle materialer.  Kun nogle få af dem. Dels kan ens kreativitet nemt gå i stå ved synet af et prisskilt og dels er udvalget sjældent stort. Jeg var nu alligevel glad for mine adventskranse. Oftest foretrækker jeg det enkle.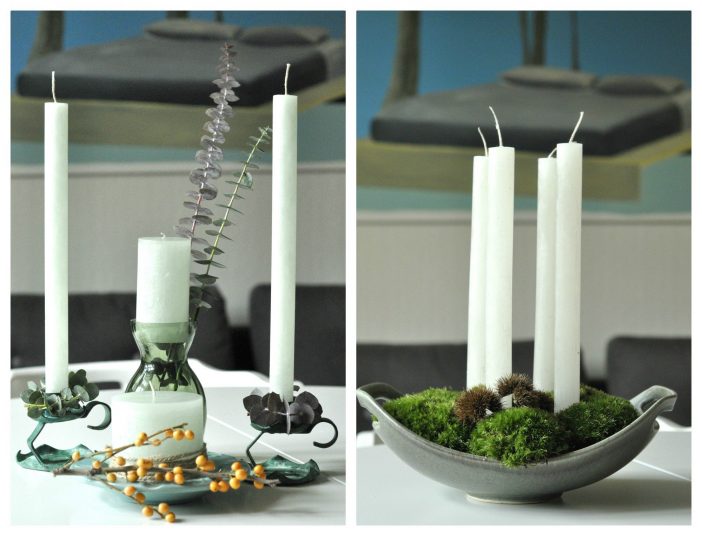 Sidste år var adventskransen også meget enkel på en bund af pudemos fra skoven og blot pyntet med sløjfer. I indægget "Årets adventskrans er næsten rund" kan du læse om adventskransens historie og om hvorfor de lilla lys er helt perfekte til en adventskrans.