Juleideer med appelsiner er der mange af. Her får du mine 7 bud på, hvad du kan bruge appelsiner til, når du pynter op til jul. For mig er det en klassiker, som altid holder og så lyser den orange farve så dejligt op i vintermørket.
Appelsinskaller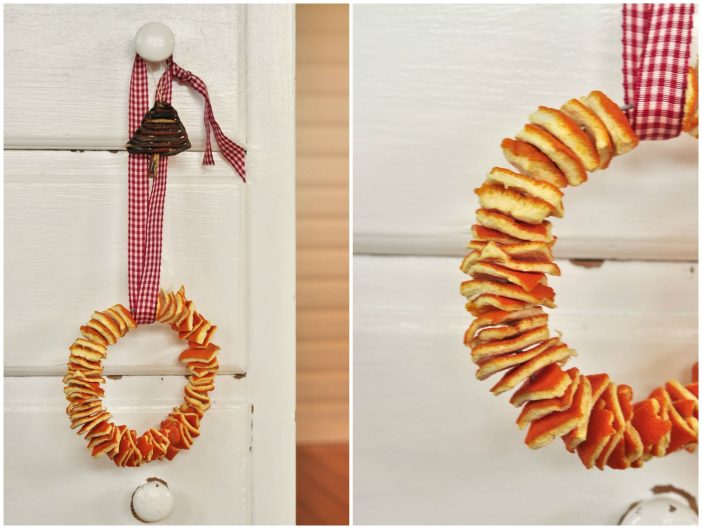 Kranse af appelsinskaller forener fornøjelsen ved at spise appelsiner med en af de nemmeste måder at lave en krans på. Når du har skrællet appelsinen, klipper du skallen op i passende stykker og tråder dem på en metaltråd. Sådan bliver du ved indtil kransen er komplet og du kan lukke den. På med et silkebånd og så er det bare at hænge den op. Der går let sport i at producere så mange som muligt. Hvilket her i huset betyder, at vi pludselig spiser mange appelsiner og nærmest strutter af C-vitaminer. Du kan selvfølgelig også lave kranse med skaller fra klementiner og mandariner. De er især gode til små kranse.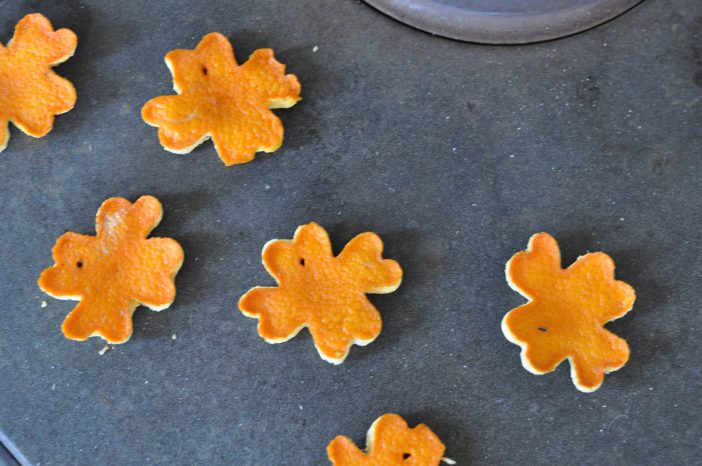 Hvis du vil stikke små stjerner eller andet ud i appelsinskal, så er det bedst at skrælle appelsinen med en kniv. På den måde kan du sikre dig, at stykkerne er store nok og passer til formen. De kan godt "krølle" lidt, når de tørrer, så hvis du vil undgå det, så læg dem i pres mellem to stykker papir. Vil du hænge dem op, så husk at lave et lille hul med en stoppenål eller lignende, mens skallerne er friske.
Tørrede appelsinskiver
Det er nemt at tørre appelsinskiver i ovnen. Mine har fået et par timer på en bageplade med bagepapir i en 110 grader varm ovn. De er fremme til jul for tredje år i træk. Det eneste der er sket med dem er, at de er blevet mørkere i farven. Ellers holder de sig fint, hvis bare de bliver opbevaret tørt og køligt.
Jeg har brugt mine til en juleguirlande og til at pynte julegaverne med det år, hvor der var gaveindpakning med naturlige bånd som tema, men jeg har også set nogle meget fine kranse med tørrede appelsinskiver.
Hele appelsiner med og uden nelliker og udskæringer
De fleste af os har lavet appelsiner med nelliker til jul i vores barndom. Det er en af de juleideer med appelsiner, som er særlig hyggelig at lave med børn. Men man kan også tage ideen et skridt videre og lave udskæringer i appelsinerne. Nemmest er det med en citrusskræller. Især hvis du gerne vil have tynde streger. Så skal du bare holde citrusskrælleren lidt på skrå, så du kun bruger det yderste "øje".
Appelsinen til venstre med brede linjer – sikkert skåret med en urtekniv – er fra sidste års julebesøg på Fredriksdal i Helsingborg. Til højre er mine egne lavet med citrusskrælleren. Man kan selvfølgelig også lade være med at stikke nelliker i. Så får man et mere grafisk udtryk.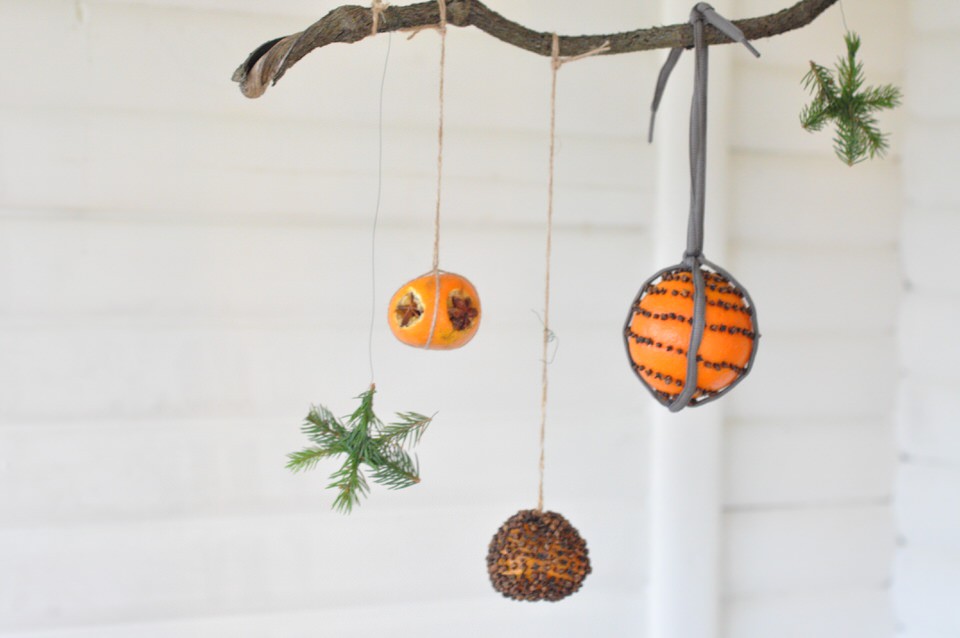 Klassikeren med nelliker behøver ikke at hænge i vinduet. Et år lavede jeg en juleuro med duft af appelsiner og nelliker. Jeg forsøgte mig også med stjerneanis i en mandarin. Det blev sådan lidt halvfjerdser futuristisk.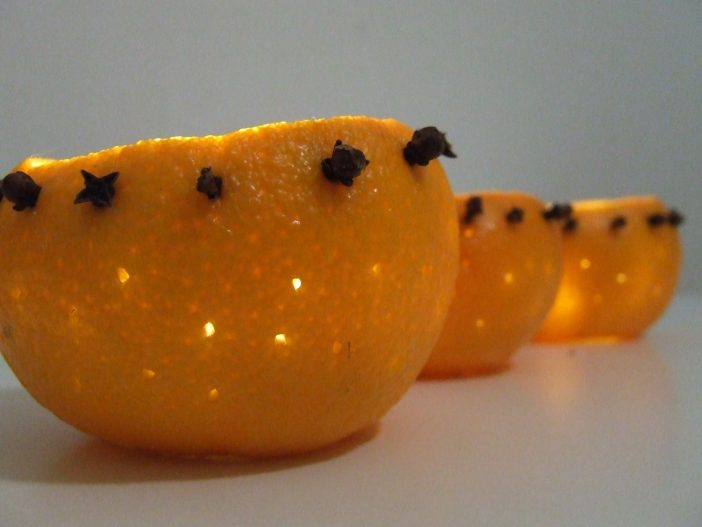 Helt tilbage i 2010 lavede jeg appelsinlygter til julebordet ved at udhule appelsiner, prikke huller med en strikkepind og dekorere kanten med nelliker. En ide der stadig holder. Det eneste du skal være opmærksom på er, at de hurtigt tørrer ud, så hvis du vil have det friske udseende juleaften, skal du lave dem på selve dagen.