Gaveindpakning med fokus på gavebåndet. Farvede silkebånd og jutesnor snor sig på kryds og tværs henover genbrugspapiret og samles med naturlig pynt.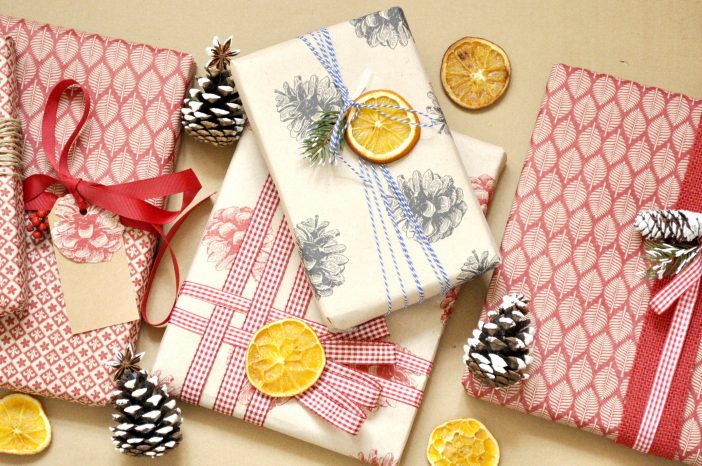 Sponsoreret indlæg: Gavepapiret i indlægget er sponsoreret af dp danmark, som leverer gavepapir til detailhandlen. Du kan læse mere om sponsoren nederst i indlægget.
Forrige gaveindpakning havde fokus på gavepapiret, som jeg hyggede mig med at folde på japansk. Denne gang har jeg koncentreret mig om gavebåndet. Der er nemlig mange alternativer til det klassiske kors. Som altid bruger jeg silkebånd og natursnor. Bånd som modtageren nemt kan gemme og genbruge. Gavepapiret er genbrugspapir. Det tynger ikke helt så meget i miljøregnskabet, som det almindelige gavepapir. Til pynt bruger jeg juletræerne fra sidste års naturlige julepynt, resten af appelsinerne fra appelsinguirlanden, kogler og gran dyppet i en rest hvid maling.
Herunder til venstre har jeg blandet silkebånd og havesnor og til højre har jeg flettet to forskellige nuancer silkebånd ind i hinanden.
Julen har mange farver og til venstre har jeg brugt et sort-hvidt gavepapir og en blå-hvid snor. Snoren har jeg snoet flere gange på langs af pakken og samlet på midten til en dobbelt vifte. Til højre har jeg sat to rester af papir sammen. På den måde får jeg brugt al papiret på rullen. Jeg har skjult samlingen med et silkebånd, som er bundet på midten af pakken. Ved gavemærket hænger en papirkogle, som jeg har klippet ud af en rest gavepapir.
Et bredt hessianbånd med et tyndt silkebånd ovenpå giver lidt ekstra til gaven.
Nogle gaver egner sig også til en gavepose. Her har jeg pakket en pose med småkager og givet den et silkebånd og en kogle.
Når alle pakker er pakket ud, så husk at i nogle kommuner – f.eks. København – må du gerne komme gavepapir i genbrugscontaineren til papir, mens du i andre kommuner ikke må. Spørg på din genbrugsplads, så er du helt sikker. Du kan jo også gemme noget af det og lave frøposer, dine egne gaveposer eller dekorere kort med rester af gavepapir.
Om sponsoren: dp danmark er et sydsjællandsk firma som siden 1940 har leveret indpakning til detailhandlen. De leverer alt i gavepapir, gaveæsker, gaveposer og tilbehør til gaveindpakningen til forretninger rundt omkring i Danmark. Firmaet har en miljøvenlig tilgang til produktionen og får blandt andet papir fra fabrikker som er miljøcertificerede.