I en sund have vrimler det med insekter, fugle og andre dyr. Alle de små hjælpere, som gør, at vi ikke behøver at bruge gift. Det er ikke meget, der skal til for at skabe et rigt insektliv i haven. Blomster så længe som muligt er blot en af de ting, vi kan gøre for at tiltrække flere insekter. Insekter som er føde for fugle og for hinanden og som opretholder balancen i haven.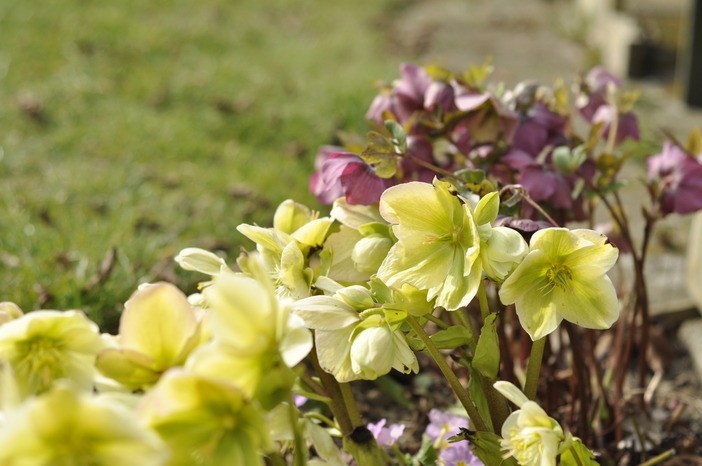 En tommelfingerregel er at gå efter de enkeltblomstrende planter. Her er der nem tilgang til blomstens pollen og nektar. Vintergækker, krokus og erantis hører til de allertidligste blomster, som insekterne kan boltre sig i. Det er nemme løgblomster, som står godt under hækken eller i et bed, du luger meget forsigtigt i. De formerer sig gerne, hvis de får fred til det. Det kan du  læse mere om i indlægget Sådan får du mange erantis.
Helleborus ( juleroser og påskeklokker), som på billedet herover, er også gode insektplanter i foråret. Klip bladene af i februar og lad blomsterne kaste frø, så har du snart mange blomster til glæde for dig og insekterne.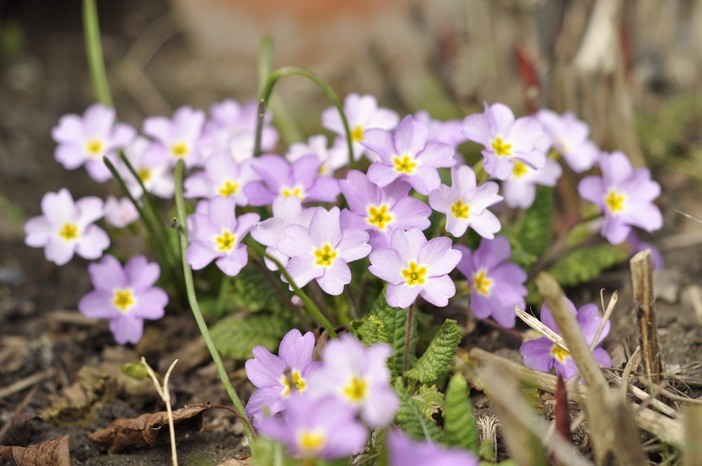 Primula er en anden tidlig forårsblomst, som både gavner og pynter i haven. Når du tømmer krukkerne for primula, så sæt planterne i et bed. Her lever de videre med en meget lang blomstringsperiode. I milde vintre har jeg haft  primula allerede i januar. De vil gerne have det lidt fugtigt i halvskygge, men jeg har også primula, som overlever i fuld sol.
Primula er i øvrigt meget mere end en forårsblomst. Der findes også sorter som blomstrer om sommeren. De kan være svære at få fat i, hvis du besøger et almindeligt plantecenter, men du kan selv så primula. Nogle gange kan du også være heldig at finde planter på plantemarkeder. I plantecenteret kan du købe haveprimula til udplantning. Det er ofte de tidlige forårsprimula.
Snepryd er en vigtig insektplante og en fryd i forårshaven. Har du en gang fået den i haven, har du snart mange. For altid. Løgene er bittesmå, så sæt dem, hvor du ved, du gerne vil beholde dem. De er svære at fjerne igen. Vores står i et bed foran huset, men som med de andre forårsløgblomster er snepryd også god under hækken eller i plænen. De gør sig godt i store flader, hvor de virkelig folder sig ud i et blåt hav.
Du finder mange flere tips til en insektvenlig have i min miniguide til insektplanter.