---
Det har været en forrygende sommer. Sol og varme gør noget helt særligt for de fleste og for mig er det en rigtig energi – og humørbooster. Når jeg ser på sommerens highlights, så er det ret tydeligt.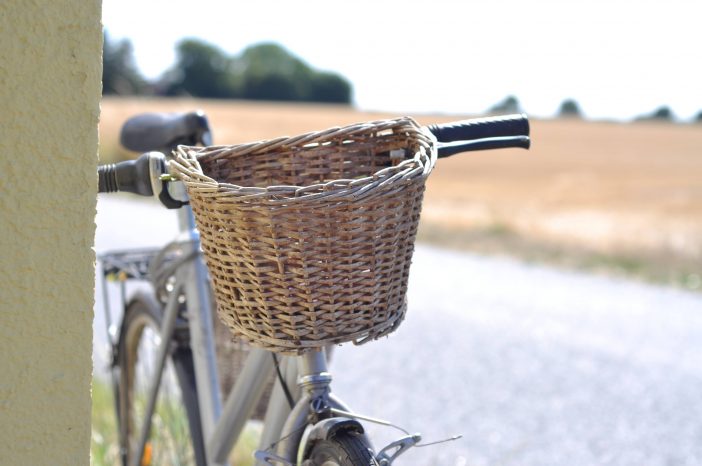 Cykel- og badeture
En af de ting jeg har nydt rigtig meget i år, er at cykle mig en tur. I højsommeren var det efter aftensmaden, når varmen ikke længere var så voldsom. Ud over markerne, ned til vandet og gerne med en solnedgang til at køre hjem på. Man kommer vidt omkring på en cykel og denne sommer er det for alvor gået op for mig, hvor mange yndlingsteder jeg egentlig har på Jungshoved. Hvis du ikke allerede kender dem, så kan du læse om dem i blogindlægget "Mine tip til en sommerudflugt på Jungshoved".
Badet har vi selvfølgelig, langt mere end vi længe har gjort. Stort set hver dag hele sommeren. Da vi ikke har en badestrand lige ved sommerhuset, har vi gjort en dyd ud af at udforske og variere udvalget. På den måde har vi både badet i stille fjordvand og mærket de større kræfter i havet. På Fanø blev vi overrasket over, at vandet var så salt. Sådan kan en badetur også blive til en oplevelse. Forfriskende har det været hver gang.
På tur i parken
Det er blevet til rigtig mange besøg i større parker over de sidste tre måneder. Både med Havehistorisk Selskab og på egen hånd. Uden at have planlagt det, viser det sig, at de alle har elementer af barokhave over sig. I større eller mindre grad. Med Frederiksborg Slotshave som det storslåede eksempel og Barokhaven ved Gl.Holtegaard som det mere afdæmpede. I parken ved Bregentved kunne vi ane kaskadeanlægget på afstand. Desværre er det en del af den private have, men linierne kunne vi se. Især da vi stod oppe ved obelisken bagerst i haven. På Hindsgavl slot var det især køkkenhaven der fangede os og ved Ledreborg gjorde en rundvisning i det peripatetiske akademi stort indtryk.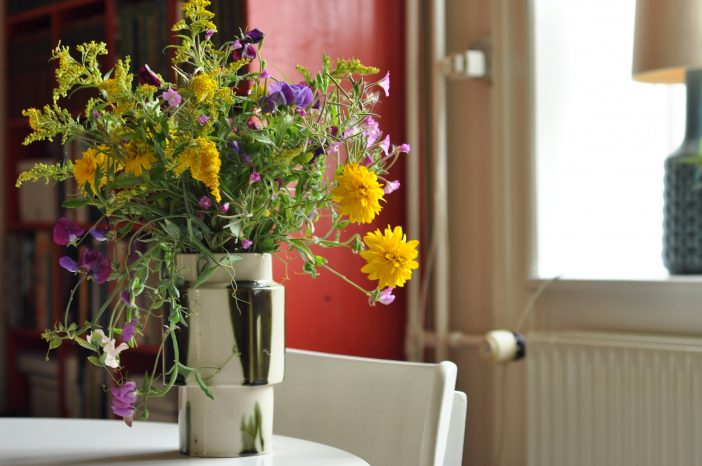 Haven ved sommerhuset
Vores egen have har ikke været den overvældende succes i år. Stauderne har blomstret yderst kort og sommerblomsterne er ikke blevet mange centimeter høje. Undtagen ærteblomsterne. De kan lide varmen og tørken. De selvsåede stolte kavalerer og solsikker har også klaret sig rigtig godt. De har måske haft noget af vinterens væde med sig. Køkkenhaven taler vi ikke om. Undtaget bær- og frugtafdelingen. Hver morgen har jeg hentet store flotte og velsmagende solbær til yoghurten, kirsebær har vi spist i rigelige mængder og blommerne er eksploderet i munden med masser af saft og sødme.
Kartofler i tang
Vores forsøg med kartofler i tang er faldet heldigt ud. Det er ikke tangens skyld, at kartoflerne sidst på sommeren har været tørre. Til gengæld har tangen gjort det nemt at hente kartofler i den samme størrelse. Det er bare at løfte tangen, vælge kartofler og dække til igen. Det gør vi igen til næste år. Hvis du ikke ved, hvordan vi har gjort, så er det såre simpelt: på et lag tang har vi i foråret lagt forspirede kartofler og herefter dækket dem med endnu et lag tang. Ingen hypning. Ingen graven. Bare plukke kartofler og sørge for, at de hele tiden er godt dækket til af tangen, så de ikke bliver grønne.
Det er altså ikke den rene elendighed med haven i år, men lidt mere vand havde gjort underværker. Det husker vi til næste år, hvis sommeren bliver lige så varm.
Mad og musik
Sommeren har været fuld af musik og den har været lige så varieret som badestrandene. Ligesom sidste år fotograferede jeg igen i år, i samarbejde med handelskontoret, alle de spændende gastronomiske tiltag på Roskilde festivalen. Det i sig selv er en sjov opgave, men så er der jo også musikken. Den er der heldigvis også tid til. Og, det er ikke ren rock´n roll. Masser af spændende verdensmusik og mere eksperimenterende musik er der også. En god opvarmning til Fanø Free Folk festival senere i juli.
Som bekendt er der rigtig mange mennesker til Roskilde festivalen, så det er dejligt at komme til Fanø og være til festival med 150 andre. Her foregår de fleste koncerter i forsamlingshuset og mange af os spiser sammen. Køkkenholdet står for maden. I år gik vi med på en guidet tur rundt i Sønderho. Mægtig hyggeligt. Og så sov vi for første gang i mange år i telt. Den helt rigtige sommer til det.
Sidst i juli er det tid til Oremandgårds Kammermusikfestival i den gamle husflidsskole. Det er tæt på sommerhuset, men vi starter altid med en lille picnic før koncerten. At sidde og spise på plænen ved den smukke gamle træbygning omgivet af skov er en helt unik optakt til en koncert.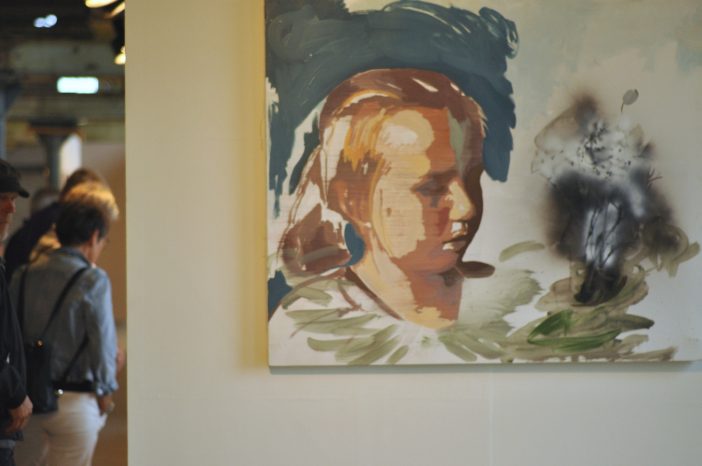 Kunsten er vigtig
For mig er kunsten vigtig. Den gør mig til et langt bedre menneske. Både når jeg nyder det smukke og når jeg bliver udfordret på min forståelse af verden. Så ingen sommer uden kunst. Ligesom resten af året. Den varme sommer lagde dog en vis dæmper på museumsbesøgene. For selvom Fuglsang Kunstmuseum lokkede med klimaanlæg og afkølede rum, så er der ikke aircondition i vores bil. Heldigvis er vejen til Fanø belagt med kunst. Så vi stoppede i Odense og hilste på Tintin og hans skaber. I Middelfart lokkede en udstilling på CLAY med nogle af Danmarks bedste keramikere. De seks nulevende medlemmer af udstillingsgruppen Keramiske veje kan virkelig både tilfredsstille min trang til smukke ting og udfordre mit syn på verden. På en og samme gang. Mere keramik er der på Vejen Kunstmuseum. Jeg bliver aldrig mæt af deres store keramiksamling i kælderen, hvor jeg hver gang opdager noget nyt. I år blev det også til et indblik i Niels Skovgårds keramik. En udstilling som senere kommer til Fuglsang. Så står jeg der sikkert igen. Nye omgivelser giver nye blikke på det man har set før.
Lokalt nåede vi forbi 44 Møen et par gange i løbet af sommeren. Både for at se udstillingen Møenlight Sonata og for at bliver udfordret på vores musikforståelse. Sommeren igennem har der været flere arrangementer med musik og det fortsætter i september. Næsten lokalt er også kunstfestivalen Lys over Lolland i Sakskøbing gamle sukkerfabrik, som løb af staben i august. Den rummede mange fine værker, som er blevet siddende og har rykket ved vores blik på verden. I det store og i det små. Ligesom det skal være med kunst. Helt i den ånd sluttede jeg sommeren af i kunstnernes by Skælskør.