Høstanemone bringer glæde i haven gennem mange måneder. Plant den på dens yndlingssted og nyd den i alle stadier. Fra juli til langt hen på vinteren.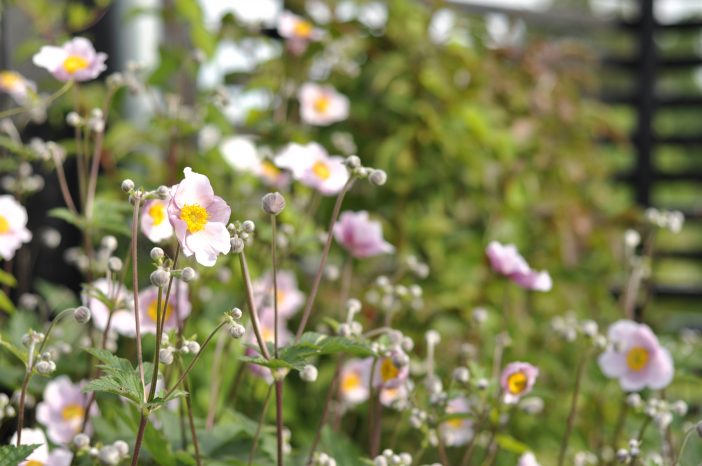 Der er ikke mange planter som måned efter måned beriger haven med blomster og som formår at se at godt ud i alle stadier. Lige fra knop til frøstand. Men høstanemonen kan. Og, ikke kun det. Står den det rigtige sted, spreder den sig lystigt. Her i haven fik en lille bid fra min mormors have en svær start, fordi jeg ignorerede alle planteanvisninger.  Men efter at have flyttet den til et sted med løs muldjord og halvskygge er den lille bid blevet til en stor munter flok. Næsten for stor. Nu prøver jeg at tøjle den, så den ikke overtager hele bedet, men glæden ved det frodige flor er intakt. Store grupper af den samme blomst er et plus her i haven. 
Der er da også masser af variation i et bed med høstanemone. Knopperne står med flotte grafiske tegninger i det der ligner blødt velour. Når blomsten folder sig ud går den fra klokkeform til fladeform og ser man klokken bagfra ligner den en smuk gammel kyse. Senere når blomstringen for længst er færdig, temperaturerne er faldet og vintermørket har lagt sig over os, står høstanemonen i bedet med de sjove vatlignende frøstande.
Høstanemone stammer fra Kina, men er også udbredt i Japan. I begge lande finder man den naturligt i skovens lysninger og let skyggede skovbryn. Den første som beskrev den var plantesamleren Carl Thunberg i 1784, men først 60 år efter bragte Robert Fortune planten med hjem til Europa i 1844. Det vi kalder høstanemone omfatter både arten Anemone hupehensis og varianten Anemone hupehensis var. japonica samt enkelte hybrider. Sorterne går fra hvide over lyslilla til cerisserøde og de varierer både i højde og i blomstens fylde, men den mest almindelige er den lyslilla.