Solbærsyltetøj med timian er en nyfortolkning af en klassiker. God på morgenbrødet og i en pandekage. Et af sommerens hit som varer hele vinteren med.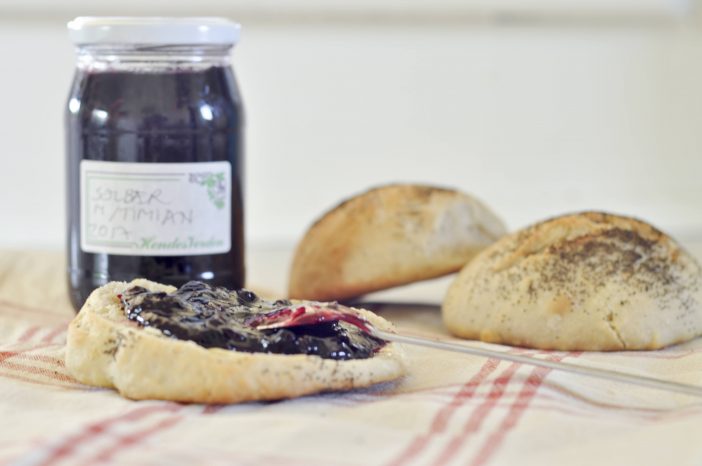 Det er ingen hemmelighed at her hos os er bær i haven et hit. Der er så mange glæder ved at have bærbuske og så er det oven i købet noget af det nemmeste at have i sin have. Her i sommerferien er en af mine største fornøjelser at sylte. Selve det at sylte tager ikke særlig lang tid, men inden da når jeg at meditere lidt over bærplukningen. Der er ikke noget bedre sted at lade tankerne flyve end, når jeg sidder og plukker bær. Der bliver ryddet op i tankevrimlen og ind i mellem dukker en ide eller to op. For eksempel til nye kombinationer af bær og krydderurter som her, hvor jeg blander solbær og timian. 
Efterhånden har jeg syltet i så mange år, at jeg ikke længere bruger en opskrift, men måske er du ikke helt der endnu, så jeg har taget udgangspunkt i en opskrift på solbærsyltetøj fra Tørsleffs den lille grønne klassiker. Den går man aldrig fejl af. 
Solbærsyltetøj med timian
500 solbær
325 g sukker
2 store spsk friske timianblade
evt melatin
Atamon til at skylle glassene med
Hæld de skyllede solbær i en gryde og tilsæt sukker samt timianblade. Sørg for at der ikke kommer kviste med. Hverken fra solbær eller timian. Varm blandingen langsomt op ved svag varme og lad syltetøjet simre ca 5 min. Tilsæt melatin i det forhold som står på pakken og lad det koge 2 min. Sluk og skum syltetøjet. Hæld syltetøjet på skoldede glas som er skyllet med atamon og luk med det samme.