Julebuketter fra haven kræver ikke den store blomsterbinder. Pluk fra de stedsegrønne og de vinterblomstrende buske og lav en enkel buket.
På trods af vinteren har haven stadig noget at byde på. Dels er der alle de stedsegrønne. Dels er der alle de vinterblomstrende buske. Selv i vores have, som har et sparsomt udvalg af vintergrønt, er det muligt at samle en buket. Hvert år kommer der dog nye planter på ønskesedlen. Skimmia ville for eksempel være helt fantastisk at have lige nu. Eller oktoberkirsebær. Helt optimalt ville julerosen selvfølgelig være, men jeg har mere held med påskeklokker. Enhver buket fra haven kan selvfølgelig suppleres med købte blomster, men det er en sjov udfordring at finde julebuketter i haven. Helt uden at supplere.
Herunder har jeg klippet grene af den vinterblomstrende liguster. Den har de smukkeste sorte bær. Grenene har jeg sat sammen med blomster fra kejserbusken. Det er ikke alle bær, som på dette tidspunkt er kønne at se på, men de der stadig er friske, er smukke i vinterbuketter.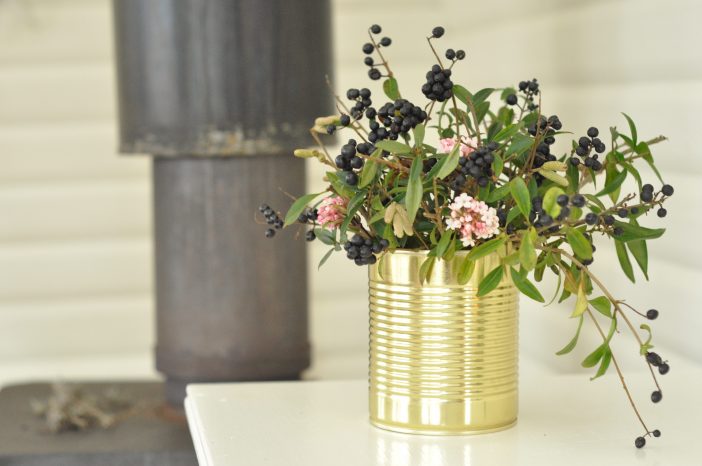 De to buketter herover er sat sammen af forskelligt stedsegrønt blandet med gråblad for at skabe lidt kontrast. Til venstre er det thuja, buksbom og kirsebærlaurbær. Til højre er det buksbom og en fyrregren.
Blomstrende grene er et kapitel for sig. Det er her oktoberkirsebær kommer ind i billedet. Træet blomstrer nemlig nu og det vil være oplagt at tage grenene ind. Har man, som jeg, ikke sådan et træ, må man være forudseende i slutningen af november. Da er det nemlig tid til at tage mirabellegrene ind, hvis de skal blomstre til jul. Jeg stiller dem altid køligt og giver dem god tid til at danne knopper. Det er muligt, at du ,også på dette tidlige tidspunkt af sæsonen, kan drive dem på kortere tid i et varmt rum. Senere behøver de ikke helt så lang tid for at gå i blomst. Under alle omstændigheder gælder det om at være forudseende. Det gør det til gengæld ikke med kejserbuskens blomster. Har du en stor busk, så har du de dejligste lyserøde blomster til jul. Du skal blot være opmærksom på, at de dufter meget kraftigt. Jeg har også oplevet, at de taber lidt af farven. Hvilket efter min mening ikke gør det mindste.