Påskedekorationer til haven der hilser gæsterne velkommen med kreativt genbrug, påskeæg og masser af forårsblomster.
Når jeg kaster mig over kreative projekter er det ofte en enkelt ide, som får lov til at forme resten af ideerne. I år er det opsatsen i sort, som årets påskedekorationer til haven kredser om. Det var den første ide jeg fik. Herefter kom ideen til fuglereden. For hvor skulle jeg ellers lægge de betonæg, jeg havde lyst til at lave. Til allersidst kom syltekrukken til. Der manglede noget højt i opstillingen. Meget blev prøvet, men til sidst var den der. Det er tit sådan, jeg arbejder mig frem. Først en grundide og så fylde på, trække fra, lægge til, flytte om, til det er som jeg ønsker det. Ind i mellem forkaster jeg helt en ide. Og, sådan blev også årets påskedekorationer til.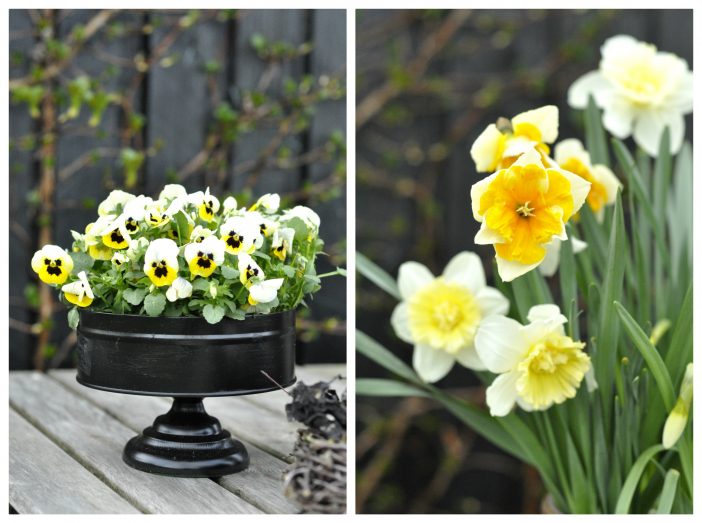 Den sorte opsats er lavet af en kagedåse og en tinlysestage (fra 60´erne-70´erne). Kagedåsen er limet på lysestagen med en limpistol og bagefter er opsatsen sprayet sort med mat spraymaling. I opsatsen har jeg plantet gule og hvide hornvioler med en sort midte. Narcisserne til højre er Narcissus "Ice King" og Narcissus "Orangery". 
Fuglereden er en krans lavet af birkeris. Den er fyldt ud med to forskellige slags tang, som er nemme at finde ved stranden. Æggene er en blanding af hjemmelavede betonæg og plantefarvede æg fra sidste år. De sidste er bleget i solen, hvilket har givet dem et helt nyt udseende. Rundt om nogle af betonæggene har jeg snoet henholdsvis sort vindseltråd og kobbertråd. Sukkulenten kommer ind, hvis frosten banker på.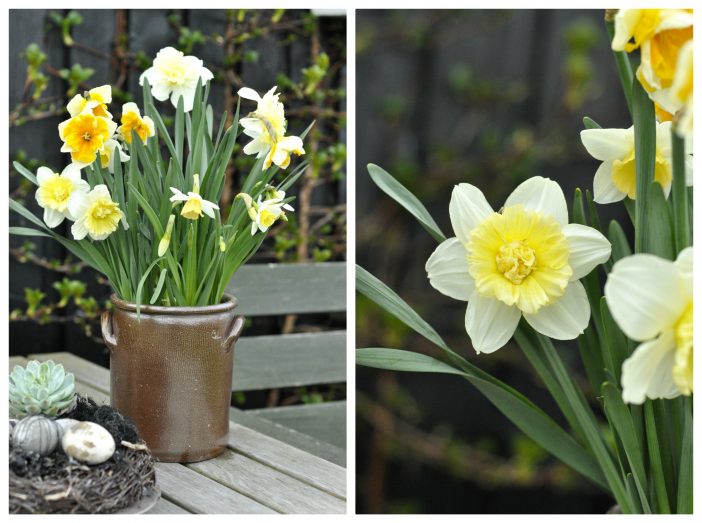 I år er der et stort udvalg af narcisser med løg i plantecenteret. Det har jeg benyttet mig af og har fået suppleret samlingen. Inden de rykker ned til de andre narcisser i skovstykket, står de i min farmors gamle syltekrukke som en del af årets påskedekoration. Til højre er det Narcissus "Ice King".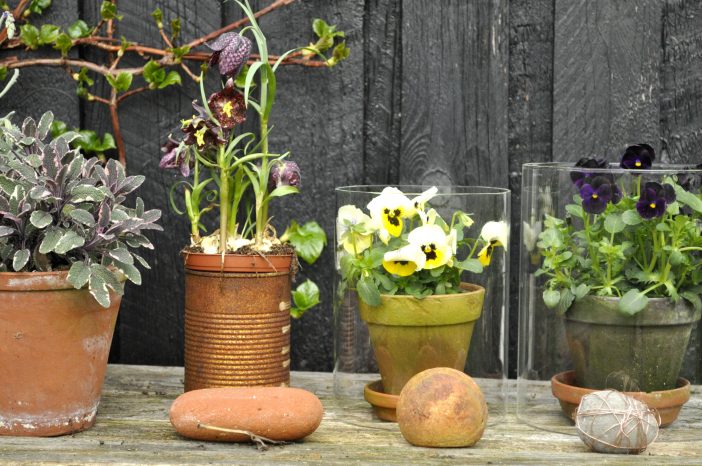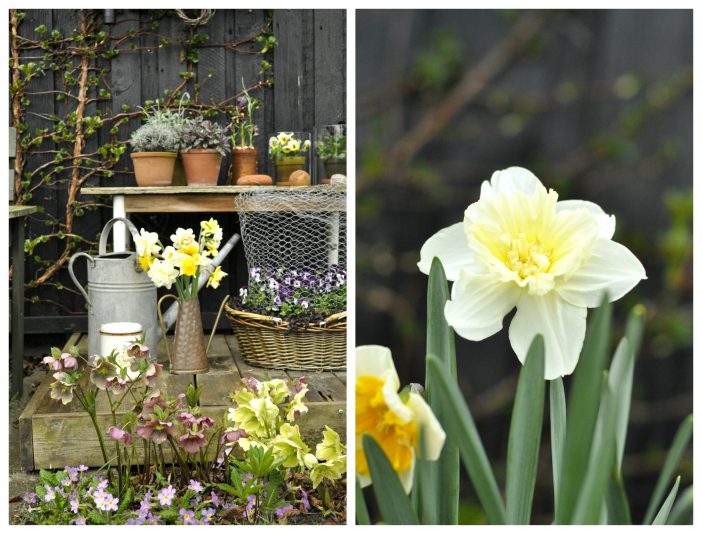 Tæt ved døren står årets påskedekorationer til haven på et havebord i genbrugsmaterialer. Hornviolerne på bordet er rådyrsikrede med glas. På terrassen sørger en kuppel af hønsenet for, at hornviolerne kan være i fred for de lækkersultne rådyr. Man må sno sig, når man insisterer på at have hornvioler i rådyrernes område. Narcisserne i kobberkanden er en buket fra haven. 
Nu er det tid til at se, hvad Ina har lavet til haven, så tag med over til Anna´s Plads.