Et blomsterbed i varme farver kan sagtens være afdæmpet. Brændt orange, abrikos og laksefarvet er alle varianter af orange, som giver et mere afdæmpet indtryk end den rene, klare orange. Det er varme og glade farver, som ikke "larmer" helt så meget som i den rene form, men stadig spreder lys og glæde over haven. Jeg har fundet 8 dahlia i Dansk Dahlia Selskabs have i Valbyparken og sat dem sammen til to blomsterbede i varme toner.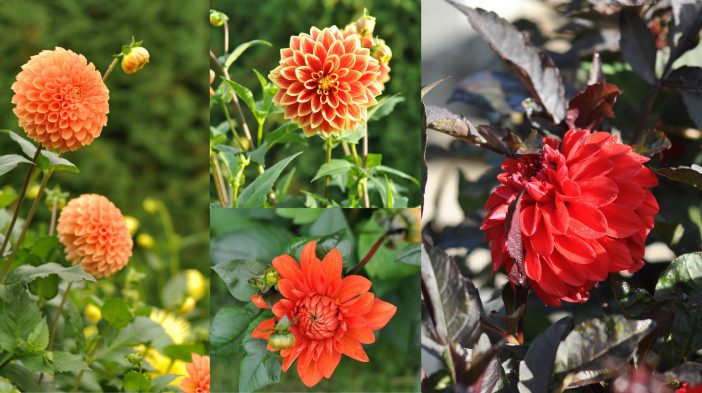 Helt t.v. Dahlia "Jowey Linda" (ball type). I midten øverst Dahlia "Dutch Carnival" (dekorativ type). I midten nederst Dahlia "Jytte Nielsen" (dekorativ type). Helt t.h. Dahlia "Fire Mountain" (dekorativ type)
Et bed som er ren tone i tone kan godt gå hen at blive lidt fladt, så det er nødvendigt at tilføje lidt kontrast. Det kan være ved at bryde formen, som her hvor en enkelt ball type blandt alle de dekorative bryder ind. Det kan også være ved at gå lidt længere ud af farveskalaen og for eksempel tilføje en enkelt rød dahlia. Det sorte løv på Dahlia "Fire Mountain" dæmper den røde farve og holder bedet i ro samtidig med, at den røde blomst giver kontrast. På den måde er det en tøjlet kontrast. En anden måde at skabe kontrast på er ved at bruge en blomst, som har kontrasten i sig. Dahlia "Dutch Carnival" er en elegant dahlia, som med sine lyse kanter bryder et tone i tone bed op og gør det mere spændende og levende
T.v. Dahlia "Ms. Kennedy" (ball type). I midten øverst Dahlia "Orange Garden" (dekorativ type). I midten nederst Dahlia "Vulcan" (semikaktus type). T.h. Dahlia "David Howard" (dekorativ type)
Bedet kan også holdes i lysere farver. Brændt gul kombineret med abrikos og tilsat en rød-orange semikaktus type som "Vulcan". Semikaktus typerne er ikke helt så spidse som de rene kaktus typer og skaber en harmonisk kontrast til de dekorative typer. Som i det forrige bed har jeg valgt en enkel dahlia med mørkt løv, Dahlia "David Howard", til at dæmpe farverne med.
Dahlia er kompositorisk nemme at arbejde med. De blomstrer samtidig og stiller de samme krav til jord og lys. Når efteråret kommer graver vi dem op. Lykkedes kompositionen ikke i år, er det bare at starte forfra til næste år. De fylder med det samme i bedet. ikke noget med at gå og vente på, at de om mange år har vokset sig store. Ikke noget med at tænke på om de forskellige planter passer sammen i jord- og lysforhold. Eller om de blomstrer samtidig. Vi skal altså ikke tænke på meget andet end farver og former. 
Jeg har helt sikkert før opfordret til at gå en runde i Dansk Dahlia Selskabs haver i Valbyparken og ved Sophienholm slot, men gør det gerne igen. Her er der rig lejlighed til at se, hvor mangfoldig dahlia slægten er og ikke mindst lade sig inspirere. Dansk Dahlia Selskab har også en liste med private besøgshaver, som er værd at kigge på.
Og endelig er der Haveselskabets åbne haver. Her er der i denne tid mulighed for at besøge flere haver med fokus på dahlia. Haverne er åbne for både medlemmer og ikke-medlemmer.
Her på bloggen finder du mere dahlia inspiration under tagget Tema Dahlia