Påskelam lavet af pomponer er et hyggeligt og nemt DIY projekt til påsken. Du kan lave påskelam i forskellige størrelser. Både med og uden ben.
Egentlig skulle jeg bare lave nogle få, men da først jeg kom i gang voksede fåreflokken. Det blev hurtigt til mange påskefår med lige så mange påskelam. Både fordi det er nemt og sjovt at lave dem og fordi de er så søde at se på.
Hvis du selv vil lave påskelam, skal du bruge:
uldgarn

sytråd

karton

saks

en gryde med kogende vand

eventuelt sigte eller trægrydeske

sort filt

øjne

limpistol

eventuelt grene til ben
Da jeg gerne vil have mine påskelam lidt aflange, bruger jeg et rektangel med en slids som skabelon. Den laver jeg selv af tykt karton. Det er desuden en meget nemmere måde at lave pomponer på end de to ringe jeg normalt bruger. Det smarte er, at skabelonen også kan bruges til at lave runde pomponer. Faconen ligger dels i måden du vikler garnet på og i klipningen bagefter. Men nu vil jeg altså gerne have dem aflange. Derudover bruger jeg forskellige størrelser skabeloner for at variere størrelsen på mine påskelam.
Uldgarnet vikler jeg om skabelonen, til jeg har den ønskede tykkelse. Jo mere garn, jo tykkere påskelam. Til sidst fører jeg en tråd ind i slidsen og i hullet i den anden ende, strammer til og binder en knude. Uldgarn kan være lidt skrøbeligt, så jeg bruger sytråd. Herefter klipper jeg garnet op i hver side og fjerner skabelonen.
Nu er det tid til at dampe pomponen over kogende vand. Jeg synes det er lidt varmt og meget kedeligt at stå med den i hånden. Desuden er det mere effektivt med flere ad gangen, så jeg hænger dem enten på en trægrydeske henover gryden eller lægger dem i en sigte.
Imens klipper jeg hoveder af kraftigt sort filt. Jeg bruger en skabelon i karton, så de bliver nogenlunde ens. Skabelonen er let at lave selv. Øjnene limer jeg på med en limpistol.
Når pomponerne er dampede, klipper jeg dem til. Det vil sige, at jeg fjerner alle de tråde der stritter og retter lidt på faconen, hvis det er nødvendigt. Så limer jeg hovedet på.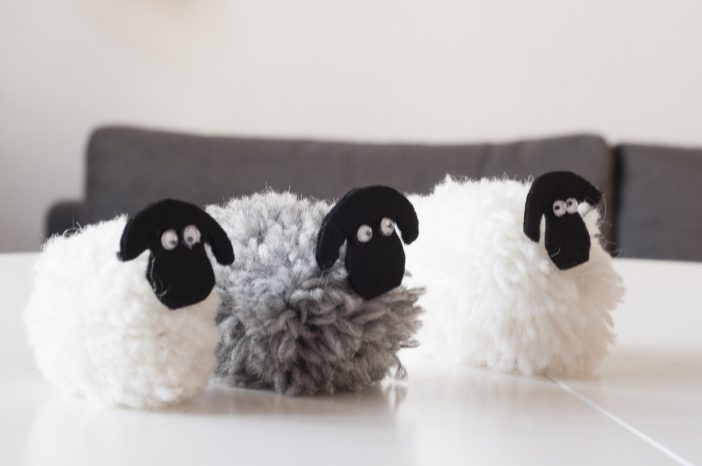 Nogle påskelam får lov at ligge ned. Det fungerer især godt med de store, synes jeg. Andre får ben af små grene limet på med limpistol.
Lige nu står fåreflokken bare til pynt, men senere skal de bruges til noget helt særligt, når Ina fra Anna´s Plads og jeg fra d.7.-11.4 kører påsketema.