Foråret er ideelt til at gøre haven mere insektvenlig, pifte de gamle bede op eller starte nye. Og, det behøver ikke at være dyrt. 
Mon ikke også du kribler efter at komme i gang i haven for alvor. Realisere vinterens drømme. Flytte lidt rundt på planterne. Tilføje nye. Måske er det i år, at haven skal være endnu mere insektvenlig. Måske har du bestemt dig for, at der skal gøres noget ved efterårets bede. Så haven også er skøn til den tid. Selvom budgettet ikke er uendeligt, kan det sagtens lade sig gøre. Det er altsammen noget som nogle af de mest populære indlæg fra havesæsonen 2016 handler om. Læs med herunder og lad dig inspirere. 
Den budgetvenlige have
At anlægge en have kan være en dyr affære, men det behøver det ikke at være. For eksempel er størstedelen af vores have anlagt med stauder vi har fået forærende. I indlægget "5 tips til en budgetvenlig have" giver jeg 5 ideer videre til, hvordan du kan anlægge en have – eller et nyt bed –  uden at det koster alverden. Indlægget var et af de mest læste i havesæsonen 2016. Budskabet er det samme i indlægget "Forny haven uden at sprænge budgettet", men her tager jeg mere udgangspunkt i de eksisterende planter.
Få flere insekter ind i haven
Summende bier, flagrende sommerfugle og mariehøns er noget vi alle gerne vil have i vores have og det er godt. For jo flere gode opholdssteder insekterne har, jo flere bliver der af dem. Også af dem som måske ikke har så stor "herlighedsværdi", men en stor nytteværdi. Alle de små hjælpere i haven, som holder hinanden i skak, så vi kan bevare haven giftfri. En af de måder vi kan tiltrække og fastholde insekterne i vores have på, er ved at sørge for, at der er føde så mange måneder som muligt. Trænger du til inspiration til, hvad du kan plante til glæde for insekterne, så kig i de to populære indlæg "Forårets insektvenlige blomster" og "4 efterårsblomster med insektappeal" eller gå all in og kig på bloggens "Miniguide til insektplanter". Her finder du også andre gode råd til glæde for insektlivet.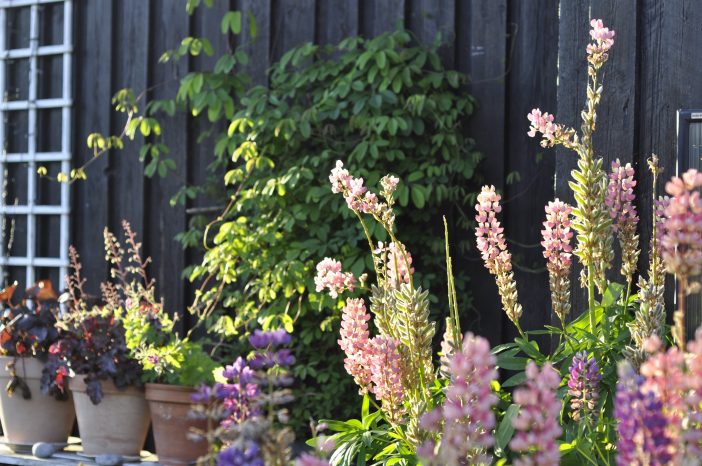 Efterårets blomsterglæde
Lige nu er der lang tid til efteråret og heldigvis for det, men det skader ikke at forberede haven, så den også er til glæde i oktober. Dahlia er en af de blomster som kan sætte humøret i vejret i det tidlige efterår. Ja, helt hen til frosten tager dem. Det er lidt for tidligt at sætte dem, men absolut ikke for tidligt at købe knoldene. I indlægget "Inspiration til et blomsterbed i varme farver" tipper jeg om 8 dahliaer i brændte farver, som sammen kan danne et bed, der matcher efterårets farveskala. Et indlæg som lå i top 5 et par måneder i 2016. Hvis du er mere til lyse toner, så er indlægget "Romantiske dahlia i hvid og pink" måske mere dig. Inspiration til forskellige planter finder du i indlægget "15 gode planter til efteråret", Både dem med smukt løv, flotte frøstande og dem som blomstrer ind i efteråret.
På med havehandsken og god fornøjelse med havearbejdet. 
---
Igennem 2017 vil jeg med jævne mellemrum tage udgangspunkt i de mest læste blogindlæg fra den pågældende periode i  2016. En slags status, men forhåbentlig også en inspiration til sæsonen. Dette er det fjerde indlæg i serien.